The most recent tabulation of new infections and deaths linked to COVID-19 through 04 September 2021 reflects a definite turnaround – at least for the moment – in Bali's battle against the coronavirus.
As promised by the Minister of Maritime Affairs and Investment, who also serves as Indonesia's COVID Czar, Luhut Binsar Pandjaitain, the rigorous application of limiting public movements with lockdowns, closing venues where people congregate, and requiring adherence to health and hygiene protocols would eventually halt Bali's surge in infections. The surge, which began in mid-July, had by mid-August ended.
To signal this victory, the Governor is reopening shopping malls, commercial centers, and tourist attractions on a trial basis. Theaters, cultural shows, and religious gatherings remain in a "closed" shutdown mode.
Officials are warning the public in Bali not to be carried away by any false sense of euphoria. The statistical decline in infections and deaths should not persuade anyone to abandon physical distancing, wearing face masks, and the continuing program of mass vaccinations.  
COVID-19: A Disease that Comes in Surges and Waves
COVID-19 has proven itself to be a disease that comes and goes in waves fed by new variants and new infectious clusters ignited after people begin congregating in a false sense that the battle against the coronavirus has been won.
Health officials in Bali are keeping a keen eye on the global progress of both the Delta and Mu variants of COVID while, at the same time, monitoring if the recent marking of the Bali Hindu holidays of Saraswati and Pagerwesi, that fell in close succession within a single week, will spark new clusters and another new surge in infections.
Bali Update and Balidiscovery.com tip their hat and issue sincere thanks to Jackie Pomeroy of Ubud, who has produced updates tracking cases, average cases over seven days, daily deaths, and average deaths over seven days cases recorded by Bali regencies (Kabupaten) in Bali.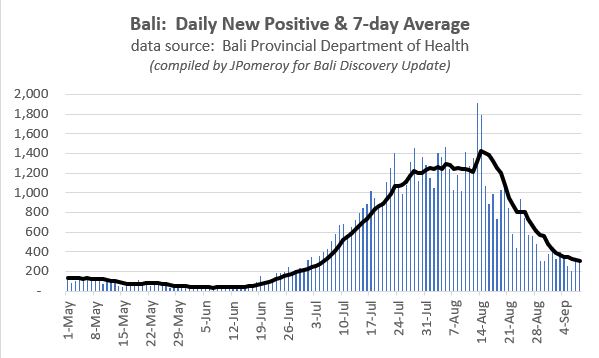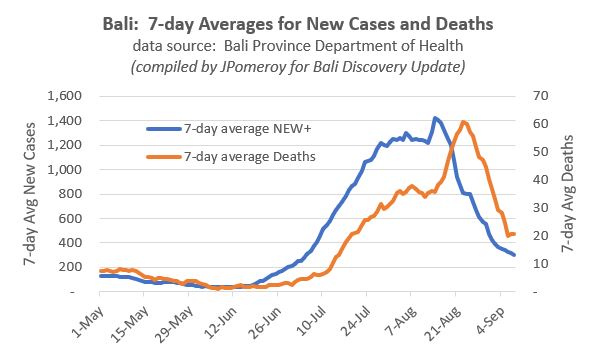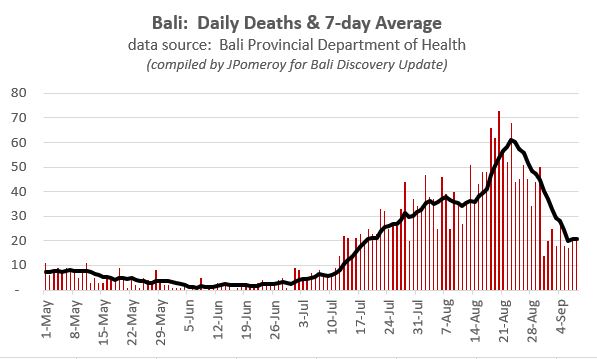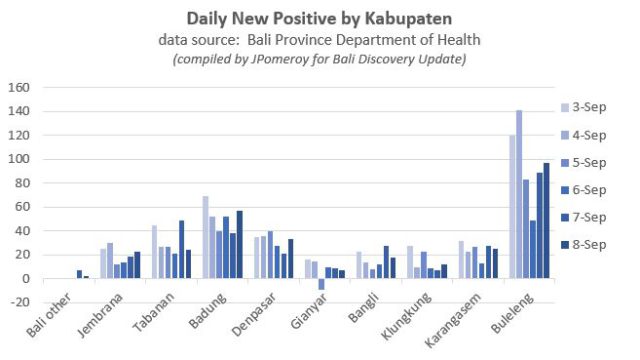 While showing definite improvement in reducing COVID infections and deaths rates, Bali's northernmost regency of Buleleng, an area of low public inoculation levels, is recording the highest rate of new infections. In terms of the highest number of new cases recorded in Bali, Buleleng is followed by the southern regency of Badung and the City of Denpasar.
Related Articles
Breaking News: Bali COVID Numbers Improve
Jackie Pomeroy–Bali's Go-to Lady on COVID19