Kompas.com reports that effective 28 May 2020, air passengers arriving at Bali's Ngurah Rai International Airport are required to have a medical certificate certifying that they have tested "negative" for COVID-19, based on a Rapid Swab Test.
The Secretary for the Province of Bali, who also serves as the Head of Bali's Task Force for COVID-19 Mitigation, Dewa Made Indra, said the requirement for health certification was being socialized so that arriving passengers traveling to Bali will prepare accordingly.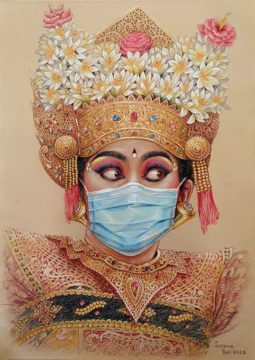 Dewa Indra called on all airlines flying to Bali to be diligent in verifying that all passengers boarding a flight bound for Bali have an up-to-date "negative" certification for the coronavirus. Airline crew and transit passengers must be able to produce a letter explaining they are "nonreactive" to COVID-19 testing. However, airline crew based and living in Bali will only need to show the actual "negative" results of a PCR Swab Test.
Civil Servants, Armed Forces Members, and members of the Police must show duty assignment letters and the results of a Rapid Test.
The current regulations are to discourage unnecessary travel by members of the public incapable of proving they have urgent business requiring them to travel.
The requirements governing air travel have been stipulated in a memorandum issued by the Director-General of Civil Aviation (Nomor UM.101/0002/DRJU.KSHIU 2020 Tanggal 20 Mei 2020). The Director-General's letter was issued in response to a letter sent by the Governor of Bali two days earlier (Surat Gubenur Bali Nomor 550/3653/Dishub, tertanggal 18 Mei 2020).
The Governor's Letter raised six points with the Ministry of Transportation and the Department of Civil Aviation:
1. The Governor requested that all agencies of the Ministry of Transportation designated to manage gateways in Bali strictly apply the rules on Island Access and Health Protocols outlined in the Governor's Memo Number 4 of 2020.
2. Bali's Airport will only accept passengers able to present proof of a negative result for a polymerase chain reaction (PCR) swab test conducted by a Government Hospital, a Regional Government, or a laboratory endorsed by the Task Force for the Mitigation of COVID-19.
3. Passengers arriving in Bali by sea must be able to present a proof of negative results for a COVID-19 Rapid Test issued by a Government Hospital, a Regional Government, Department of Health, or other authorized agency.
4. The validity period for a "negative" certificate for COVID-19 based on a swab examination or a Rapid Test is seven days before a traveler arrives in Bali.
5. The certification mention in point 4 above is also needed when a traveler purchases a ticket for an airline, public transport, or ferry that will be verified and verified again by the transport operator and port officials.
6. Travelers wishing to enter the Province of Bali must complete an application form that can be downloaded at https://cekdiri.baliprov.go.id. The QR Code will be created upon completion of the form that can be shown to transportation and port officials.
Meanwhile, the head of the Airport Authority of District IV, which includes Bali, confirmed that airport authorities will ask passengers who land at Bali's Ngurah Rai Airport to show proof of a negative result from a swab test. Travelers departing from Bali's Airport must hold also hold proof of negative results for a Swab or Rapid Test for COVID-19.
Airlines and travel agents are required to see proof for a COVID-19 screening test before issuing a ticket.