Balipost.com reports that Bali's Deputy—Governor, Tjokorda Oka Artha Ardana Sukawati (Cok Ace), recently reviewed the many procedures and steps now in place to allow the Island's tourism industry to continue to operate in the "new era" of a pandemic-plagued world.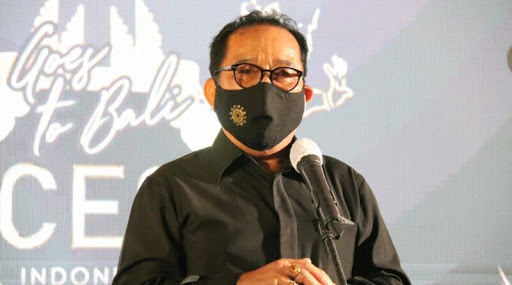 He spoke in a webinar titled "The Dynamics of Bali Tourism During the COVID-19 Pandemic" sponsored by the Association of Police Officers' Wives (Bhayangkari Daerah Bali) and held from the office of Bali's Deputy-Governor on Wednesday, 30 September 2020.
A wide range of health protocols is now in place following the Government and World Health Organization's (WHO) Cleanliness, Health, Safety, and Environmental (CHSE) standards. In anticipation of the now-postponed plan to open Bali to international tourism in September 2020, Bali also has already inaugurated a certification program to ensure hotels, restaurants, and other destinations are rigorously implementing CHSE protocols.
"Unfortunately, the plans to open in September failed to materialize, but not merely due to internal or domestic factors found in Bali. The failure to open was (also) due to the source countries of tourists traveling to Indonesia remaining in lockdown," said Cok Ace.
The Deputy-Governor admits that shortly after Bali reopened to domestic tourists on 31 July 2020, a significant increase in new COVID-19 infections occurred. Cok Ace quickly added, "We are still seeking a correlating relationship between the reopening of domestic tourism with the recent surge in new infections.
"We are still seeking a correlating relationship between the reopening of domestic tourism with the recent surge in new infections.

Tjokorda Oka Artha Ardana Sukawati, Deputy-Governor of Bali
In anticipation of a potentially worsening situation ahead, the Provincial Government of Bali has increased equipment and medical personnel assigned to hospitals in Bali designated to treat COVID-19 patients. Regulations limiting mass gatherings and mandating the use of surgical masks are now in place. Ten hotels are being prepared to provide isolation facilities for people found in Bali testing "positive" and found to be suffering from a mild infection or remaining asymptomatic for the disease.
The Deputy-Governor of Bali, who has an extensive background in tourism, says he takes pride in the fact that several travel surveys still identify Bali as one of the world's most desired tourism destinations. Moreover, the same study says the Island remains firsts on many people's lists for a holiday trip in the post-pandemic period. "I am proud that many international tourists are missing Bali. This is separate from the (many) awards Bali has received in the past," said Cok Ace.
Bali to Welcome Digital Nomads?
For this reason, Bali's Deputy-Governor plans to invite both domestic and international tourists to begin to visit and work from Bali. Continuing, Coka Ace asked: "The phrase' work from home' has become commonplace, so why not introduce the concept of 'work from Bali'? I feel many local villages in Bali can offer such a work setting."
The chairwoman of Bhayangkari-Bali, Barbara Golose, explained the purpose of the webinar was to address the "homesickness" many policeman's wives feel for Bali and encourage members nationwide to make a meaningful contribution to their respective regions to help spur growth in Indonesia's tourism economy.
The association of police officers' wives were called upon to help make National CHSE Protocols a success by introducing the protocols in every aspect of their daily lives, especially whenever they venture outside their homes.
Featured as a speaker at the webinar was Theodorus Wulianadi, the popular "Mr. Joger" franchise in Bali. In his remarks, Mr. Joger said: "COVID-19 has taught us not to sweat the small things. Now is the time to introspect and do all we can to maintain the delicate balance of nature.
Related Links
Petition to Facilitate Digital Nomads
Bali: Where the Digital Nomads Roam?