The extended semi-lockdown conditions have deprived the world of the joy of travel and the accompanying joys of discovering distant cultures by sampling new global taste sensations.
Cuca Restaurant in Jimbaran, Bali, is launching a new and highly innovative menu that allows both domestic and international visitors the opportunity to escape the confines of limited mobility and travel the world through global gastronomy. Best of all, the trip can be done without packing a bag and navigated from the comfort of what is arguably Bali's most enchanting dining venue.
Cuca Bali's New Menu
Like all its colleagues in Bali's hospitality industry, Bali's fabled Cuca Restaurant has struggled to keep its doors open. Buoyed by unrivaled creativity in their approach to cuisine and optimism about Bali's future, the dedicated Cuca Team under the leadership of Chef Kevin Cherkas has made good use of the slow months during the global pandemic by devising a worldwide road map of exciting gastronomy.
Starting from Cuca's well-deserved reputation among Bali's sophisticated circle of "foodies in the know" – a group who have come to expect new taste sensations from Kevin and his team with every course, Cuca's new menu travels the globe in grand style.
Let the journey commence in Europe, with the first stop in sunny Greece, well-known for its tasty and nourishing Mediterranean cuisine. From there, Chef Kevin brings his take on Moussaka– a stunning vegan version with roasted golden yams, spiced Indonesian rendang gravy, and a crispy bubbling béchamel sauce made with hand-squeezed coconut cream. Lingering a while on the European Continent, also resolve to revisit the classic Steak Tartare. Fulfilling the expectation to "always expect something different from Cuca," Chef Kevin relies not on beef but, instead, on the freshest fish combined with shredded coconut, spicy local sambal, and delicate scales of cucumber.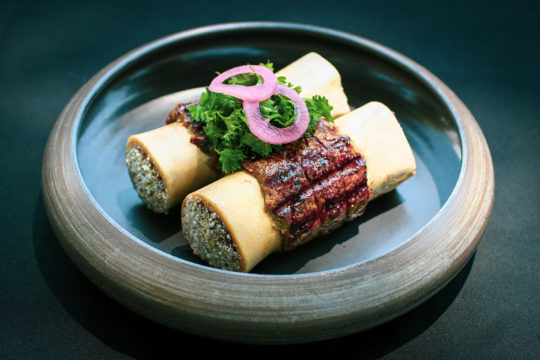 Next, head south for a stop in Italy for a truly refreshing libation. Named by an Italian soldier Giuseppe Garibaldi, Campari Orange combines with tangerine juice and "homemade Campari" that the Cuca bartender calls "Vitamin C."
The perfect company for your Vitamin C Cocktail is a delicious helping of Mexican nachos. Typically, nachos are small and salty chips dipped in spicy salsa. Predictably different, nachos at Cuca are both pretty to see, a delight to devour, and certainly not what you expected. Why not order another Vitamin C or sample Cuca's Coconut Ice Margarita that orchestrates fresh coconut, coconut flesh used to rim the glass, lime, and other citrus juices for a thoroughly refreshing drink? Can't believe it? Order another, just to be sure.
The culinary world tour continues with a stop in Japan. A chorus of "A-So" greets Cuca's reinvention of the classic Japanese Sushi course. "Sticky Sushi" gives Kevin Cherkas free reign with his obsession for succulent grilled caramel scented eel – "unagi." Paying homage to this old tradition, he follows the same thorough process to construct Sushi but replace eels with eggplant resulting in a vegan form of Sushi to be savored and enjoyed.
The next stop is Taiwan for Cuca's Beef Bone & Marrow, inspired by Cuca's memory of Taipei's caramelized delicious meat dish oozing over perfectly cooked rice. The new dish, rich with marrow and gently cooked inside a succulent bone wrapped with honey glazed beef, is truly something spectacular to sample.
Back in the USA! Bruce Springsteen would almost certainly love Cuca's tribute to a nation where the portions are big, and the locals eat as though they are always in a hurry. Tracing its roots to 1886, when history claims the first slice of chocolate cake was served. Cuca recalls the culinary experience of being the person who just missed the last piece of cake and the accompanying devilish pride of being the person who scored that last slice. This closing course called "The Last Piece of Cake" has to be "seen" or "not seen" to be believed. In the finest Cuca fashion, what you see is not what you get." Confused? We'd explain, but, sorry, our mouths are full.
Come to Cuca and solve the mystery of "The Last Piece of Cake" on the last stop on a global gourmet tour.
These unique global offerings will join a host of existing favorites on Cuca's established menu that includes many favorites such as classic Crispy Fried Chicken, BBQ Octopus, or Bali Breakfast.
While nations may temporarily seal their physical borders to travelers, Cuca Restaurant Bali offers departures three days each week when they open on Fridays, Saturdays, or Sundays. Be reminded! Seats are limited on this world tour of culinary delight via a single stop at Bali's most celebrated foodie destination.
ABOUT CUCA (www.cucaflavor.com)
An ultra-contemporary restaurant dishing-up a radically different 'clever comfort food for sharing' and 'super casual meets fine-dining' experience to become one of South-east Asia's most celebrated foodie destinations – ranked by TripAdvisor Travelers Choice amongst Asia's Top fine-dining restaurants. Cuca's 'Globally Inspired, Locally Sourced, Tapas, Cocktails and Desserts' are backed by cutting-edge recipes masterminded by award-winning Chef co-creator Kevin Cherkas, whose impressive resume boasts stints at Michelin-starred restaurants.
Reservations are available online www.cucabali.com/reservations, or by calling +62-(0)361-708066 or by Email.
The restaurant is now open on Fridays, Saturdays, and Sundays.
Related Article