John Ogilvie Taylor, the "Larger than Life" former executive chef at The Padma Resort, Legian, passed away suddenly on Sunday, 27 March 2022, aged 69. Born in Aberdeen, Scotland, on 18 February 1953, he was a young boy when he began working in the kitchen at his Aunt's hotel in Scotland.
His half-century culinary career included assignments in his country of birth, France, Germany, Beijing, and Hong Kong, before bringing him to Bali in 1990 when he worked as opening Executive Sous Chef at The Padma Resort, Legian. Two years later, Taylor was promoted to the role of Executive Chef at the hotel, which was to become his family and adoptive home for the remainder of his life.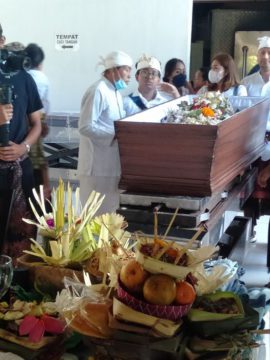 During his assignment with The Padma Resort, Taylor was responsible for four food and beverage outlets and a staff of 70.
His association with The Padma Resort spanned 26 years until his retirement in 2016.
Tjipjanto "Yanto" Soerjanto, the COO of Padma Hotels in Bali, remembers John Taylor as a loyal, hard-working individual who: "would work week in and week out getting up early in the morning to check the breakfast service, then lunch and come back for the dinner operation as if he had endless energy. I never checked on him but always had the assurance that all matters related to the kitchen were in good hands when he was around."
Continuing, Yanto said: "Obviously, cooking was his passion. He came up with a special new dish almost every week. Not a good way to keep my waistline in check, but certainly good for the hotel."
Although John Taylor left the company almost six years ago, Yanto and he kept in touch by WhatsApp daily, talking about English and Scottish football. "Now, he's not with us any longer. I will miss him dearly: his jokes, food, and companionship. May he rest in peace," said Soerjanto.
Arguably the dean of Bali's Executive Chef Corps, John Taylor was a well-known and much-loved member of the Bali community with many strong friendships among both expatriates and the Indonesian hospitality workers who he mentored.
During his brief retirement, John "Kingkey" Ogilvie Taylor found time to pursue a keen interest in golf, fishing, and cricket.
John "Kingkey" Ogilvie Taylor
18 February 1953 (Aberdeen) – 27 March 2022 (Denpasar)