Sisca Panggabean, a transexual woman who lives in Singaraja, North Bali, has opened her simple residence to become a shelter for homeless dogs.
In a shared struggle to survive, the 49-year-old Gede Panggabean scrapes together an estimated Rp. 100,000 each day to buy rice, chicken organs, chicken heads, and chicken necks to cook for her tail-wagging brood of 16 dogs and 4 cats. She cooks one kilogram of rice three times each day for breakfast, lunch, and dinner. With pieces of meat purchased locally, the meals will be supplemented by dog and cat food that she adds to the mixture at each meal.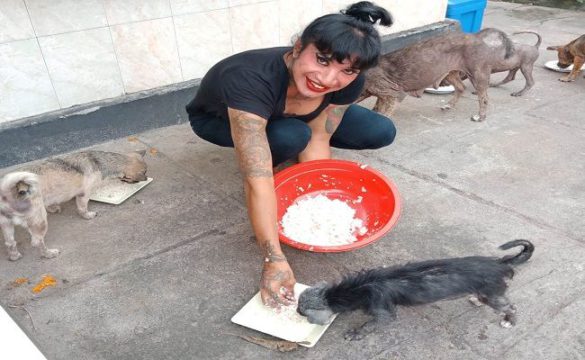 "If I count, I maybe need Rp. 100,000 each day. I am confused about how to pay for this. Sometimes people give me rice, and I am thankful when this happens," lamented Sisca.
When RadarBali.com recently visited Sisca, they found her acting as a referee to ensure that all the animals in her care get a fair share of the day's meal. "Raju don't fight. Be nice. Mami won't feed you tonight if you're naughty," she said to one unruly pack member.
Her identity card reads "Gede Panggabean" but she prefers to be known as Sisca D. Panggabean. However, her accepting and supportive neighbors call her "Mama Sisca." Sisca also provides free English language tuition to neighborhood children (see accompanying link).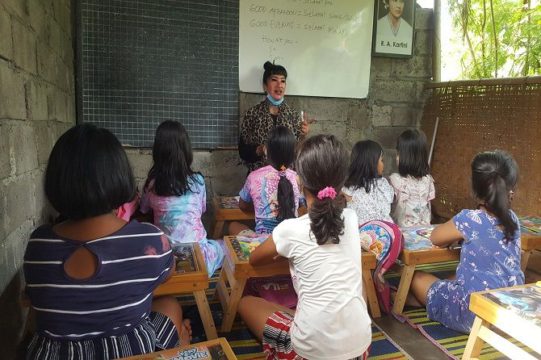 Mama Sisca has dedicated her life to homeless animals since 2014 when, after delivering medications to a friend afflicted with HIV/AIDS, she discovered a group of children beating a stray dog. Rescuing the dog after chasing the children away, the dog was left listless and near death with a tight rope tied around its neck. She brought the dog to her home and nursed it back to health. "Goli" remains a loyal member of Sisca's household to this day.
Her animals' health is always a chief concern of Sisca, ensuring that her pets have all been vaccinated against rabies. When an animal becomes ill, she seeks the help of a friend who is a veterinarian. Every year the animals are inspected by officials from the Buleleng Regency Government.
With apologies to St. Francis of Assisi, we think it appropriate to dub Mami as "St. Sisca of Singaraja."
Related Links
In North Bali, Good Deeds Know No Gender