Kompas.com reports that two-grade school children, age 12 and 10, were savagely attacked by a domesticated monkey in the Puri Gading Housing Estate in South Bali on 13 May 2022.
Two children, a boy and a girl, siblings identified only by the initials A(12) and B(10), were preparing to leave for school at around 7:00 am.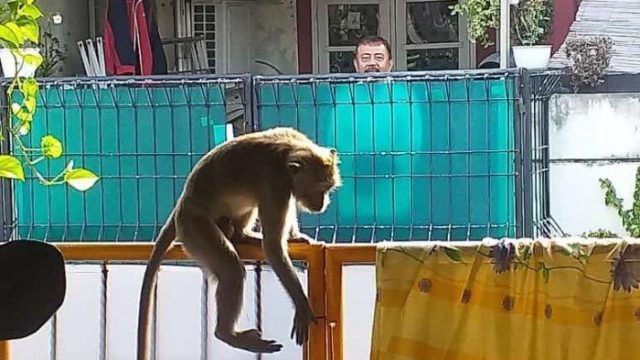 An older brother JT (29), said the two children suffered scratches and bites on various parts of their bodies, remarking: "My siblings, one girl and a boy, were bitten and scratched by a monkey. My little brother received the greatest injuries with bites and abrasive wounds."
JT subsequently reported that he had to crisscross Bali searching for an anti-rabies vaccine. Adding: "We rushed to the Udayana University Hospital in Jimbaran and were told their vaccine supply was finished. I then inquired at Denpasar's Sanglah General Hospital, where the anti-rabies vaccine was unavailable." Panicking, the elder brother and his parents brought the children to a private hospital where they were compelled to pay for the vaccine administered without charge when available at government outlets. "We went to a clinic and paid Rp. 2.8 million for the treatment of the children. Usually, the vaccine is free-of-charge, and we will need three vaccination treatments," said JT.
JT then shared his experience on social media, scoring many views in the local community. He defended his decision to publicize the experience of trying to persuade the government to stock VAR at all government health facilities. In addition, he is trying to compel the owner to cage the monkey that attacked the children. "Let's quickly catch the monkey, so there are no other victims among the many children in our housing estate," he said.
Separately, the head of the Bali Health Service (Kadinkes), Nyoman Gede Anom, confirmed the lack of VAR stocks at several government health facilities in Badung Regency. "In Badung Regency, we have no stock (of VAR). If people coordinate with our office, we can overcome the lack of stock. We have stock, but no one has reported to us," said Anom. He explained that private hospitals in Bali still have the anti-rabies vaccine because they have purchased their own supply. These hospitals are charging Rp. 500,000 per dosage. Adding: "That private parties. If from us (the government), it's free. The Ministry of Health gives supplies free vaccines. Private parties purchase their vaccine, which is expensive. One-shot costs Rp. 500,000 and four shots are needed."
Anyone suffering an animal bite is urged to first report to the nearest Community Health Center (Puskesmas).
Health officials have been dispatched to the Puri Gading Housing Estate to identify the monkey involved in the attack and certify that it is free of rabies.