We hope the 40,000 Weekly Subscribers to Bali's Award-Winning Email Newsletter Bali Update, and the many thousands of others who view our news article online, via social media links and online searches each week will take the time to consider making even the smallest contribution to our GoFundMe Campaign.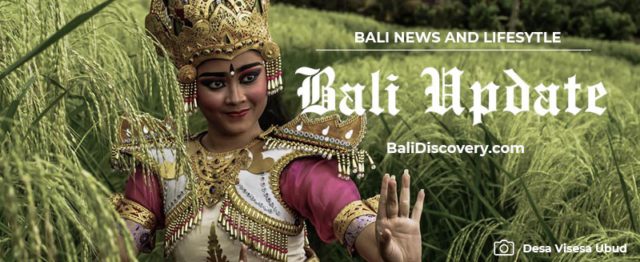 Your support allows the continuing publication of Bali Update – our weekly newsletter on Bali, Bali tourism, and Bali lifestyle.
Now in its 23rd year of continuous publication, Bali Update has won a Pacific Asia Travel Association (PATA) Gold Award and received many other prestigious awards for its dedication in spreading the news on the Island of Bali and ensuring that "Bali's side of the story" is always told.
Similarly, Bali's Update Editor has received two of the highest awards possible for someone working in Indonesian tourism. The Adikarya Wisata Trophy was presented by the President of the Republic of Indonesia for Service to the National Tourism Industry and the Karya Pariwisata Trophy for service to Bali Tourism handed by the Governor of Bali.
Like other members of Bali's tourism industry, Bali Update and www.balidiscovery.com  – are suffering from the ongoing recession affecting global tourism. Advertising revenues are down markedly, and promotional funds from Bali-based hotels and tourism companies have become extremely scarce until tourism flows return.
Therefore we are soliciting the global community's help to help keep the Bali Update arriving in your email inbox each week as we work to create new revenue streams and wait for better times. Even a small donation of US$5 helps and represents a kind vote of support for the work we do on behalf our fabled Island of the Gods.
Again, we sincerely appreciate each and every donation – big and small.
Here's what some donators have said when joining our Go Fund Me Campaign
Robert Tan
In this small world, an act of kindness should be in everyone's soul. Hope that Bali Update, a wonderful free publication, will ride-out this tiring time, and continue to bring us news from Bali. Every time we read it, it renews our fond memories of the enchanted island. Om Swastiastu …
Robert Scoble 
I know that Jack Daniels feels that he owes a lot to Bali and to his beloved Balinese, but the truth is that they owe a lot to him.
Lawrence M Capelis 
Jack and Bali Update, have stood tall, and long, for humor, honesty, democracy, and Bali's best interests. It is an honor to help; in this time of need, we all need each other. – a 2 bit trader, and reader since 1997.
Ryan Ver Berkmoes – Author of 20 Lonely Planet Guides
Every Lonely Planet guide I've written for Bali and Indonesia (more than 20) owes a huge debt of gratitude to Bali Update and Jack Daniels
David Williams 
Don't always see eye to eye on some things, but I do appreciate the weekly digest and updates and would hate for it to cease. Many thanks and hope this goes a small way to help keep operations going when so many Balinese need a voice right now. Bring on 2021 when hopefully things begin to return to some form of normality.
If you would like to join Bali Update's list of subscribers click on this link.