In keeping with instructions issued by the Governor, PT Angkasa Pura I, who manage Bali's Airport, are now requiring all arriving domestic passengers to be in possession of a COVID-19 Swab Test certifying a "negative" result.
Meanwhile, air passengers departing Bali must present a "negative" certification obtain via a Rapid Test.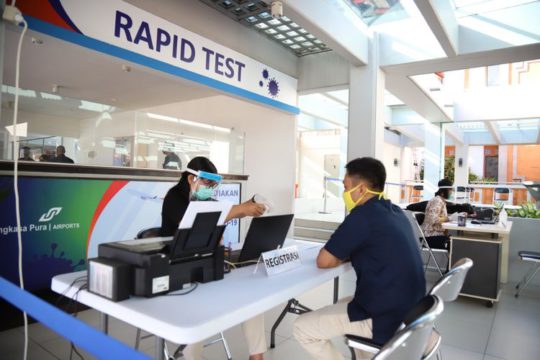 The head of Stakeholder Relations for Angkasa Pura, Taufan Yudihistira, told NusaBali that, in compliance with the Circular Memorandum issued by Bali's Governor, Airport Authorities are requiring all arriving domestic passengers to show a "negative" test result from a PCR Swab Test performed within two days of their entry to the Island. The test certification requirement commences on 18 December 2020 and will remain in effect until 04 January 2021.
Taufan explained that all arriving passengers must show a currently valid Swab Test and complete an Electronic Health Card (e-HAC). Departing passengers on domestic flights must present a less costly and more readily available Rapid Test. Passengers should note, however, the specific requirements of their desired destination when booking a flight.
Travelers to Bali need to note that a "negative" COVID-19 test result, using Rapid Tests or Swab Tests, remains valid for 14 days from the issuance date. Travelers must then retest for a new certificate valid for a further 14 days. 
 Related Article
Rp. 128 Trillion Loss Due to Testing Change
Bali Forbids Gatherings on Xmas & New Year