EDITORIAL: Those countries where the worldwide battle against COVID-19 to contain the rate of viral contagion are only managing to do so where close cooperation exists between the Public and health authorities.
Strict, and seemingly draconian rules requiring working from home, limitation of public gatherings, closure of public places, testing, and universal acceptance of the need to wear masks have a demonstrated ability to "flatten the curve" of the rate of new infections.
Leaders in Bali and on a national level have shown remarkable courage and determination in introducing economically difficult and often unpopular measures needed to turn the corner on the disease. These measures include Indonesia's closure of national borders to tourism, the shuttering of restaurants and nightspots, the closure of schools, the establishment of isolation wards and quarantine centers, and – where movement between regions is permitted – a requirement for Rapid Tests or Swab Tests at seaports and air gateways.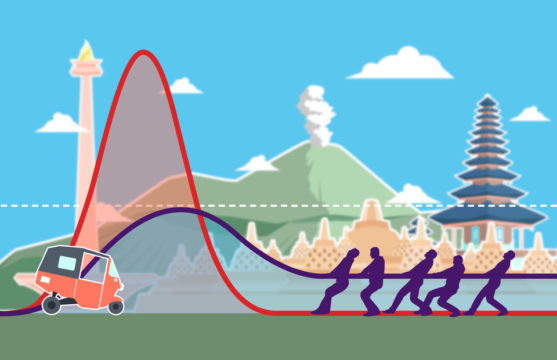 To ensure a smooth and coordinated battle against a fatal disease, powerful Task forces for the Mitigation of the spread of COVID-19 now exist on the National, Provincial, and Regional levels. Indonesia's President Joko Widodo and, closer to home, Bali's Governor Wayan Koster, have rallied all branches on national and local government in reducing the death toll by doing all within their powers to provide medical care to the sick and limit infection rates.
It is against this background of generally effective and well-intentioned steps to control the disease's spread that an inexplicable and counter-productive decree issued by East Java's Provincial Head of Transportation, Dr. Nyono, was issued on 24 August 2020. The Decree (553/333/113.6/2020) dismissed the efficacy of Rapid Tests for detecting COVID-19, and unilaterally and immediately removed the requirement for the test for passengers boarding the regular inter-island ferries from Ketapang (Banyuwangi), East Java to Gilmanuk on the western tip of Bali.
To our view, the way the Decree was announced represents an absolute failure by the Governor of East Java, Khofifah Indar Parawansa, to coordinate her administration's decision-making, and has left people traveling by ferry across the Bali Straits from East Java to Bali in a state of Limbo, both medically and legally.
Suddenly passengers are now allowed to board the 45-minute-long Bali-bound ferry trip without first showing a negative result for a COVID-19 Rapid Test, the hapless passengers have been placed in a potentially perilous and precarious position. But, when these passengers arrive in Gilimanuk, they are greeted by Bali Provincial Authorities and The Provincial Task Force for the Pandemic's Mitigation, who continue to require proof of a "negative" Rapid Test Result before being allowed to enter the Province.
In this fluid and rapidly developing situation, it remains unclear if travelers from East Java arriving in Gilimanuk, Bali will be required to undergo testing at the Balinese seaport or are simply refused entry and summarily sent back to Ketapang.
Governor Parawansa's apparent acquiescence to Dr. Nyono's sudden and unilateral change of the rules eliminating the need for Rapid Testing is unnecessarily causing widespread confusion that could have been easily avoided through consultation and coordination that has been up to now the hallmark of Indonesia's approach to controlling the spread of COVID-19.
Via his decree, Dr. Nyono defends his decision to eliminate Rapid Testing in Ketapang based on his interpretation of Ministry of Health and the Department of Transportation decisions. And, be that as it may, his rapid-fire change of rules and procedures without prior consultation and coordination with the Provincial Administration of Bali has failed to adequately contemplate the need to safeguard public health, and prevent unnecessary confusion and inconvenience for passengers when they disembark the State-owned ferries in Gilimanuk.
Meanwhile, Dr. Nyono's counterpart in Jembrana West Bali, the Head of Sea Transportation and Fisheries, I Made Dwi Maharimbawa, confirmed to Radar Bali that the requirement for proof of a negative Rapid Test remains in effect and enforced in Bali.
The situation on the ferry crossing from East Java to Bali is, sadly, an old and familiar tale where officials fold their arms and take a "let the people be damned" attitude by guarding their narrow and jealous hold on administrative power. This arrogancy persists when a more circumspect and more cooperative attitude could have alleviated needless suffering for the Public they are paid to serve.
To say that the behavior of East Java officials in this matter is a grave disappointment is an understatement. What these officials have done is wrong on many levels. It is blindly single-minded with no reference to maintaining the decorum and simple dignity with which the government must conducts itself and little regard for the unnecessary pain and inconvenience they cause through bad governance parading as efficient and rapid policy making.
Most worrying are the consequences of the way in which East Java has handled the issue of Rapid Testing. Their "bloody-minded" approach to public policy is sure to undermine the Public's future faith in their government, resulting in a dangerous disregard for government rules, guidance, and directives against COVID-19.
Coordination, common sense, and concern for the Public's welfare are so abysmally missing in how East Java has handled their sudden decree on Rapid Testing for COVID-19 at Ketapang.
Hopefully, this failing will not miss the attention of President Widodo and members of his Cabinet. We pray that our national leaders will remind East Java leaders of the value and need for teamwork by taking the necessary steps to improve East Java's public policy-making to minimize the deadly effects of COVID-19 while waiting for the scientific community to create effective vaccines and drug therapies