In the few days leading up to Thursday, 27 May 2021, high tides caused thirteen dolphins to wash ashore at Batu Tumpeng Beach in Klungkung, Southeast Bali.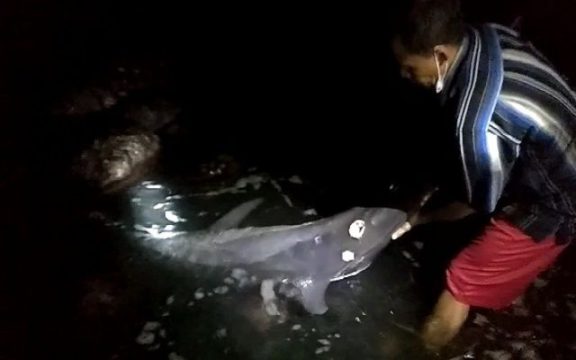 Residents, alarmed at the sudden appearance of the large group of distressed dolphins, rushed to the beach to assist the mammals back into safer, deeper waters.
The Operations Chief of the Regional Disasters Mitigation Agency (BPBD) in Klungkung was also startled by the sudden appearance of a pod of dolphins on the local beach.
Animal welfare workers, disaster management officials, armed forces members, lifeguards, police, and local citizen worked for hours to move the dolphins one by one, some of which were stranded among beachside boulders back into open water. The Regent of Klungkung, Nyoman Suwitra, also attended the scene to supervise the rescue.
Officials blame high waves for washing the dolphins to shore.
Reacting quickly to initial reports received at 7:30 pm, the pod of 13 dolphins was rescued and pushed back out to sea by 11:30 pm.
Officials monitored the beach through the following morning to ensure new dolphins washed ashore.