The State News Agency Antara reports that the West Bali National Park (TNBB) is preparing to introduce its latest group of endangered Bali Starlings or Jalak Bali (Leucopsar rothschildi) into a natural habitat at the Park.
The head of the TNBB, Agus Ngurah Krisna Kepakisan, on Thursday, 25 June 2020, shared the good news that the number Bali Starlings at the National Park had reached 303 in June of this year. Adding: "This is the largest population since 1974, made possible due to the Park's captive breeding program."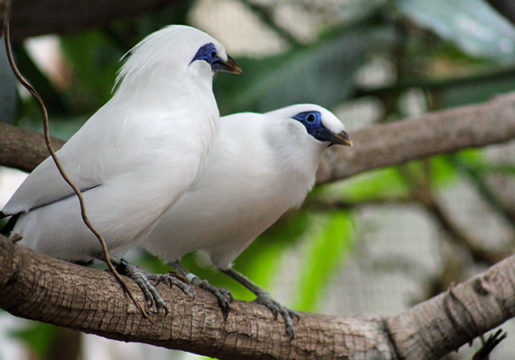 Agus revealed the preparations now underway before releasing the once-captive birds back into the wild. These preparatory steps include screening all the Park workers involved in the release for COVID-19 and testing the birds for bird-flu.
"Because of the COVID-19 Pandemic, the release program can't be done in a rushed fashion," explained Agus.
The National Park Chief said the population of Bali Starlings at TNBB has risen dramatically due to the operation of three captive breeding sites. Every year, TNBB hatches 60 Bali Starling eggs.
Once the birds are around 11 months old, the rare and endangered birds are carefully let loose into the wild.
Agus said the total Jalak Bali population now living in the wild has increased. "At Labuhan Lalang (West Bali), the wild population of Jalak Bali has increased. In 2019 the Labuhan Lalang population was 34, and by May 2020, the number had grown to 38 birds.
In the entire Park (TNBB), the population of Jalak Bali increased from 57 in 2015, to 81 in 2016, growing to 109 in 2019, and exploding to 303 in 2020.
The Park chief said the public's awareness and cooperation in protecting the Jalak Bali population has played an essential park in the current record population. As part of the successful program to rebuild the Jalak Bali population, villagers living at six villages within the West Bali National Park are maintaining captive breeding cages under the guidance of the Conservation and Natural Resource Agency (BKSDA) in Bali.
The six villages helping to breed Bali Starlings are Desa Belimbing Sari, Ekasari, Melaya, Gilimanuk, Sumberkelampok, and Pejarakan.
The Jalak Bali is also known as Bali Nyna, Rothschild's myna, Bali Starling, or Bali Mynah – grows up to about 25 centimeters in length. The beautiful bird has a drooping crest and is almost entirely white except for black tips on its wings, bare blue skin around its eyes, and a yellow bill.
Native to Bali, the species has been considered critically endangered with a wild population once officially estimated at less than 100 adults. New Jalak Bali populations of captive-bred birds released into the wild in West Bali and on Nusa Penida Island have created a wild community in Bali of well over 300 Bali Starlings.