Spending your holiday in Bali's vibrantly busy shopping, dining, and nightlife center of Legian can be the key to a perfect Island holiday. But, no matter what your appetite for tripping the light fantastic, and good food, there are sure to be moments during any holiday when a little peace and quiet is needed for recovery before continuing to the next leg of any personal exploration of the lively Legian, Kuta, Seminyak Sunset Strip.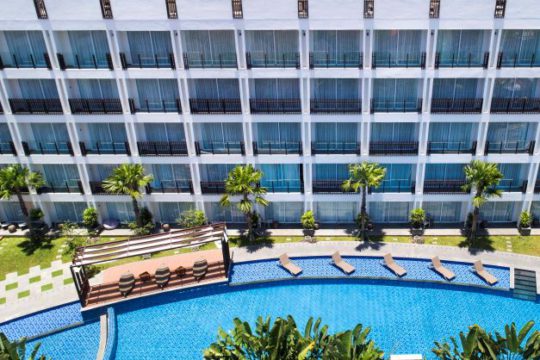 Guests seeking to balance excitement and relaxation from a tropical oasis nestled in a sedate corner of otherwise bustling Legian need look no further than the Fairfield by Marriott Bali Legian. This property is situated on a quiet side street overlooking a local canal, only a short walk or drive to Bali's most popular nightlife venues, such as JA'AN, La Favela, Red Carpet Champagne Bar, Motel Mexicola, La Plancha, and Cafe del Mar – to name but a few.
The Fairfield by Marriott Bali Legian is only a 15-minute drive from Bali's Ngurah Rai International Airport. It is also close to many popular tourist attractions and shopping areas like Double Six Beach, Beachwalk Shopping Centers, and The Galleria Shopping Center.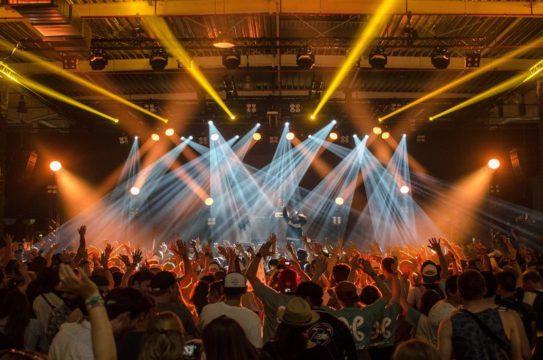 When you do decide to finally take refuge from the good-natured fun and slightly chaotic camaraderie surrounding the Legian-Kuta-Seminyak corridor, the delightful pied-à-terre awaiting at The Fairfield by Marriott Bali Legian is ranked among the very best accommodation options available in Bali, representing unbeatable value for money. The Hotel offers 160 spacious deluxe rooms and suites with private balconies, luxuriant mattresses, mini-refrigerators, 43-inch LED TVs, free quality Wi-Fi access, and stunning Legian area views.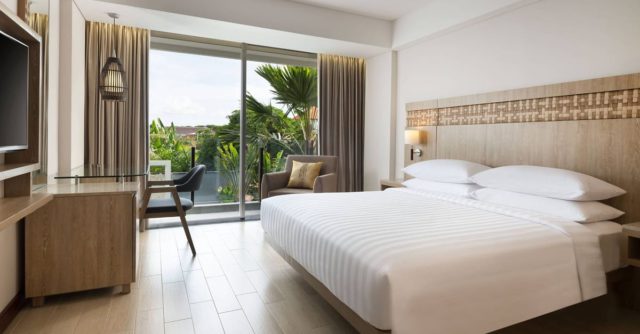 A few feet beyond the welcoming open-concept lobby area are the Hotel' lush tropical gardens and swimming pool adjacent to a welcoming swim-up Pool Bar. The Tebu Merah All Day Dining Restaurant provides an alfresco ambiance supplemented by regular evening entertainment programs enjoyed over-generous libations, highlighted by signature cocktails and non-alcoholic beverages.

Guests or walk-in visitors at The Fairfield by Marriott Bali Legian may start their evening by joining one of the weekly food events, such as the all-you-can-eat BBQ every Friday at the Tebu Merah Restaurant.
The buffet operates from 6:00 p.m. until 9:00 p.m. Before dinner, take advantage of the buy-one-get-one Happy Hours that stretch from 1:00 p.m. until 6:00 p.m. at the Pool Bar and continue at the Tebu Merah Restaurant until 9:00 p.m.
Pizza is served all day long at the Hotel's poolside in combination with attractively priced "buckets of beer" that are a hit for local visitors and hotel guests alike.
Many honeymooners and couples may contact the Food and Beverage Manager to arrange a memorable dinner at the poolside.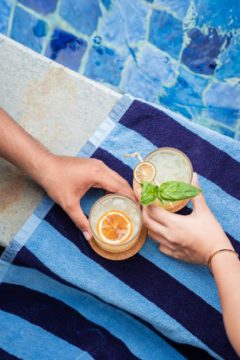 Bali's endless choice of leisure activities are all within easy reach of the Hotel. Sophisticated day boat excursions to nearby islands, traditional tours, paragliding, world-class animal parks, water sports, volcanic mountain treks, bike tours, and helicopter trips – all are on standby to tempt guests to venture forth and explore all the many wonders of Bali.
One of Bali's most colorful traditional markets – Pasar Adat Legian, is right next door, a one-minute walk from the Hotel's entrance. Not to be missed is Bali's Garuda Wisnu Kencana Park – just 30 minutes from the Hotel's front door – home to the world-famous 121-meter-high statue commemorating the epic flight of Lord Winus sitting atop the back of a mythical Garuda Bird.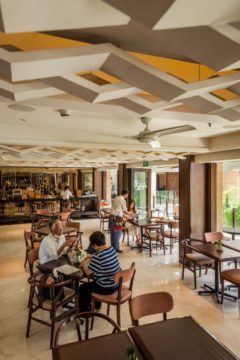 Those opting to stay closer to home and enjoy all that The Fairfield by Marriott Bali Legian has to offer may decide to join a Balinese Cooking class, play an impromptu table tennis match, trade recipes with an experienced bartender in a Mixologist Class, learn the more profound meaning and intricacies of making Balinese sacred offerings, or join a Balinese Rindik (bamboo xylophone) music class, or burn off excess calories in the Hotels' 24-hour fitness center.
Guest service representatives on duty in the lobby will provide simple maps showing local points of interest for self-guided walking tours. Guests are welcome to use a scheduled complimentary shuttle bus service connecting the Hotel to Double Six Beach.
The Fairfield by Marriott Bali Legian on Social Media
· TripAdvisor: Fairfield by Marriott Bali Legian
· Facebook Fairfield by Marriott Bali Legian
· Instagram: @fairfieldbalilegian
Marriott Bonvoy Members earn points when staying or dining at Fairfield by Marriott Bali Legian.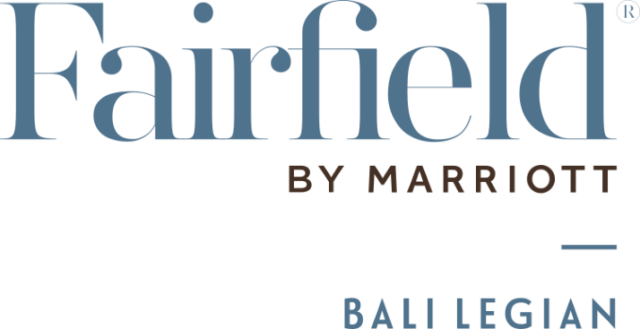 Fairfield by Marriott Bali Legian
Jalan Sri Rama No. 8C Legian, Kuta, Kab. Badung, Bali 80361 Indonesia.
Tel: 62 361 3015388
Mobile/WhatsApp: 62 81139600130
Email: reservations.fairfield@marriott.com
Website: www.fairfieldbalilegian.com