Sthala, a Tribute Portfolio Hotel, Ubud, Bali, a 5-star hotel managed by Marriott International, has announced a trail-breaking culinary pop-up dining experience to be held at the picturesque Sungai Restaurant overlooking the scenic Wos River.
Promoted as "From Jakarta to Bali with Good Taste," the four-day event will feature three rising stars on Indonesia's culinary scene from FINE – a unique and highly acclaimed pop-up dining establishment in South Jakarta. Operated by three very talented and daring young celebrity chefs, FINE offers a very limited 15 hard-to-secure seats on any single day of each week.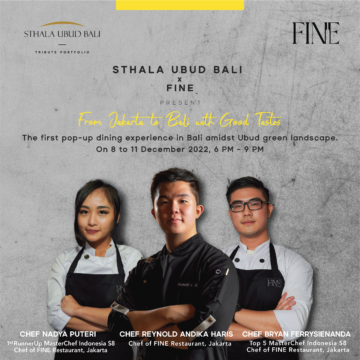 The three chefs from FINE traveling to Bali for the four-day engagement at Sthala are:
Chef Nadya Puteri
Nadya began her culinary career working at several five-star hotels, including the Intercontinental Hotel in Sydney and Merivale Group Sydney as a pastry chef and in other kitchen roles before joining the FINE pre-opening team. Her talent and culinary craftsmanship have secured her numerous honors, such as the 1st Runner Up in one of the most prestigious Cooking Competition in Indonesia.
Chef Bryan Ferrysienanda
A native Indonesian, Bryan started his culinary training at multiple upscale establishments in Chicago, such as Langham Hotel and a French fine dining restaurant, in the role of grill chef. His expertise in Western food preparation led him to become a top finalist in Indonesia's most prestigious Cooking Competition.
Chef Reynold Andhika Haris
In pursuit of a kitchen career, Reynold began his studies at Taylor's University in Kuala Lumpur, focusing on patisserie and gourmet cuisine. While living in Malaysia, Reynold furthered his culinary knowledge by working at the St. Regis Kuala Lumpur, a Contemporary Asian Restaurant with several world-renowned Michelin-starred chefs such as Chef Andreas Caminada and Chef Nelly Robinson.
The unique table d'Hote menu with optional wine pairing will be presented each evening from 6:00 – 9:00 pm at the Sungai Restaurant.
The Amuse Platter
– Sate lilit, sambal matah
– Modern Yeesang
– Roasted Gulai Cauliflower
WINE: Tunjung Brut Sparkling Wine
Hot Appetizer
– Grilled Octopus served with Jimbaran sauce, zucchini & kemangi puree,
Chickpeas, Pineapple salsa
WINE: Two Island Riesling
Cold Appetizer
– Sword Fish (Mekajiki), Korean Gochujang Vinaigrette, Garlic Chips, Lime Curd, Radish, Spring onion, Garlic Tuile
WINE: Two Island Rosé
Main Course
– 6-hour Braised Wagyu Beef, Rawon Beef Jus, Stacked potatoes, Sauteed Broccolini, Kerupuk Gendar, Pickled Shallots, pea tendril
WINE: Two Island Cabernet Merlot
Palate Cleanser
– Cucumber & Yuzu Granite
Dessert
– Bombe Alaskan Klapper tart (regal tart base, coconut custard, coconut meat, kenari dacquoise, date-raisin jam, coconut meringue)
WINE: Pino de Bali, Fortified Wine
COST
All five courses of food are attractively priced at Rp. 850,000 net per person
The five wine pairings shown are available at Rp. 650,000 net per person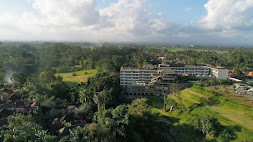 About Sthala, a Tribute Portfolio Hotel, Ubud Bali by Marriott International
Sthala, a Tribute Portfolio Hotel, Ubud Bali, is a 5-STAR hotel member of MARRIOTT INTERNATIONAL, set among the restful tropical landscape in Lodtunduh village, Ubud. It is perched on a hilltop, offering stunning ridge views of a steep river valley and lush forestry. The hotel features 143 Deluxe rooms and suites with a spacious living area and balcony, with most rooms providing a commanding view of the Wos River and surrounding jungle. This upscale property features a design narrative that focuses on traditional Balinese elements while blending seamlessly with the natural surroundings of this picturesque location.
STHALA UBUD BALI x FINE JAKARTA
presents
From Jakarta to Bali with Good Tastes
08 Until 11 December 2022, 6:00 – 9:00 pm
Bookings to Miss Desi Ariani
Telephone: +62-(0)361 3018700 Extension 7101
WhatsApp: +62 82342565192
Related Links