Due, in part, to the widespread circulation of a video recorded by a bystander and circulated on social media, police in South Kuta, Bali successfully arrested four men in the brutal beating and killing of a pet dog in South Kuta owned by Dewi T Manafe (27).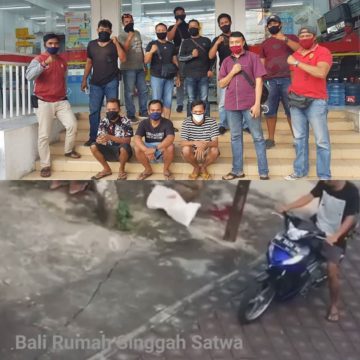 The dog, "Sule" was a much-loved companion of Dewi for the past ten years.
Now in police detentions following their arrest on Saturday, 27 June 2020, are Gaudensius Harman (25), Adrianus Paput alias Ardi (25), Konragus Ariganti alias Ari (24), and Martinus Karbus Budi alias Budi (27).
As reported by Kompas.com, Radar Bali, Detik.com, and other media, police arrested the four based on handphone video footage showing them beating the dog to death at 6:00 pm on Tuesday, 23 June 2020, on Jalan Taman Giri Perum Griya Nugraha, Gang Jeruk CI, No. 8, in South Kuta.
Police received a formal complaint on Friday, 26 June 2020, from the dog's owner telling how she was called by phone while attending religious services, advising that "Sule" had been beaten to death by a man wielding a wooden block. After the dog was killed, it's body was placed in a sack and taken from the scene.
The incident was captured on film, including the assailants' motorcycle showing its registration number.
Police were able to quickly trace the men to a location on Jalan Bypass Ngurah Rai in South Kuta.
The men admitted to police that they stole the dog that they then butchered, cooked, and consumed together.
The men are charged with a violation of the Criminal Code (302 KUHP) regarding cruelty to animals that carries a maximum penalty of nine months in prison.
The incident outraged animal welfare groups in Bali, prompting the donation of a large cash reward to anyone assisting in bringing the men to justice. An initial award of Rp. 2 million offered via social media quickly grew to Rp. 13.5 million as other animal lovers joined the cause.
Related Articles
Bali Tails A'waggin – with Your Help