Bali's Provincial Chief of Police, Inspector General Putu Jayan Danu Putra, has revealed additional information surrounding the arrest of a Frenchman, Ryan Jawad Henri Bitar (30), in custody, now facing charges for narcotics possession and the illegal possession of a firearm.
As reported by Balipost.com, said police found the illegal weapons in the process of arresting Bitar on a drug charge. General Putra credited the arrest to the ongoing "Operasi Lilin Agung" conducted to safeguard the community and prevent crime over the Christmas Holidays.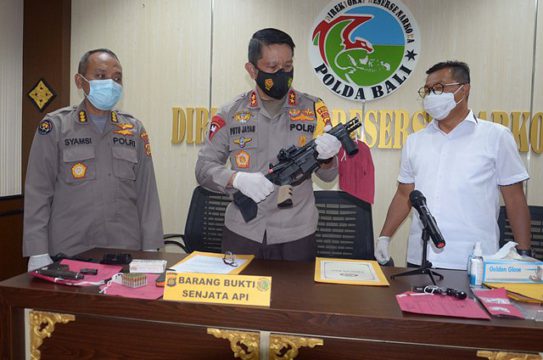 Police identify Bitar as ostensibly working in Bali's property sector.
Police are now seeking to identify the firearms' origins and traced to the Indonesian Armed Forces (TNI) or the Indonesian Police.
The suspect's possession of narcotics is being handled by the Bali Police's narcotics division, while his possession of an illegal firearm is being processed separately by the criminal division.
On Monday, 21 December 2020, acting on reports from the community, police raided the Frenchman's residence – Villa Karisma on Jalan Umalas Klecung in North Kuta, where they found a cache of narcotics and several firearms and accompanying munitions. During the raid, police secured two clips of sabu-sabu, weighing 0.44 grams and 4.27 grams, and a 'bong" used to consume the drugs. Also confiscated at the scene were a Blade Pistol Stabilizer with 28 9 x 19-millimeter bullets, an NAA 22 caliber gun with one bullet, and an assault weapon Russian Makarov 7.65 millimeters.
Ryan Jawad Henri Bitar now faces narcotics charges carrying a maximum penalty of 12 years in prison and a fine of Rp. 8 billion. For the illegal possession of firearms, Bitar faces criminal charges with a maximum prison time of 20 years.
Repeat Offender?
The NARCONEWS website operated by NS 55 DNRED reports that in August 2014, Rayan Jawad Henri Bitar was arrested by police in Bali with three packets of cocaine weighing 3.14 grams.
It is unclear if the 2014 arrest led to a conviction and imprisonment in Indonesia.