"Operasi Antik" – an anti-narcotics campaign conducted by the Bali Provincial Police between 15 and 30 August 2020 bore positive fruit in the continuing drive to crack down on the Island's illicit drug trade. At a press conference held at Police Headquarters in Bali on Wednesday, 02 September 2020, The Anti-narcotic Branch of the Bali Police announced 55 cases that have resulted in 71 suspects being arrested, including a French national, Marine Ngoc Thach (30) who was arrested carrying 68 packets of methamphetamine weighing 111 grams.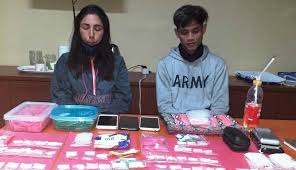 As reported by Nusa Bali, Marine Ngoc Thach was arrested with a male companion, Jeremy Jonathan Samual (24), while traveling on Jalan Gunung Soputan in Denpasar on Friday, 28 August 2020, at 6:30 pm. During a roadside search, 38 packets of methamphetamines weighing 48 grams were discovered by police.
When police widened the arrest's scope by searching the woman's lodgings on Jalan Pengubugan in Kerobokan, North Kuta, an additional 30 packets of shabu-shabu weighing 46 grams and a "bong" for smoking the methamphetamines were also found. In total, police sized 63 packets of methamphetamines weighing 111 grams.
Based on their investigations, police believe Marine and her companion, Jonathan, worked as drug distributors who have long been sought by Bali police.
Summarizing the results of "Operasi Antik 2020", the head of Bali's Anti-narcotics Division, Police Commissioner Muhamad Khozin, summarized the arrests, saying: "The results are 65 men and 6 women have been arrested. 31 of those arrested were local Balinese, 39 from outer Islands, and 1 French national."
Khozin explained that the police started the drug crackdown campaign with a target to resolve 34 cases. All the targeted cases resulted in arrests, with a further 21 new cases uncovered during the crackdown. The additional 21 cases were broken down further into 20 drug cases and 1 case of selling unregistered cosmetics representing.
"Most of the (narcotics) suspects were distributors. The evidence seized amounted to 390.92 grams of methamphetamines, 3 kilograms of marijuana, 240 capsules of ecstasy, and powdered methamphetamines. Illegal cosmetics comprising 563 boxes and Rp. 2 million in cash were also seized," said the Police Commissioner.