Bali's iconic Garuda Wisnu Kenaca Cultural Park (GWK) Lotus Pond has been selected as the venue for the welcoming cultural dinner for at least 20 heads of state and related delegations expected to attend the G20 Summit in Bali in late November 2022.

As quoted by NusaBali.com, Andre Prawiradisastra, the head of marketing communication and events for GWK, told the press on Saturday, 20 August 2022, that preparations for the prestigious November dinner have reached the 80% level.
Among the items being prepared for the G20 Summit Dinner at GWK in November is the renovation of the entrance gate, creating new steep access roads. Andrew confirmed these three main preparatory steps with other projects, including CCTV surveillance installation and enhanced public area lighting.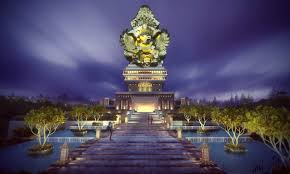 Various government ministries and agencies are helping GWK prepare for the big event. This includes the Ministry of Public Works and Public Housing. Andre added: "Everything must be ready by September. But, by August, President Joko Widodo may come to check that all is clean and ready."
Andre warned the public to expect the popular GWK Cultural Park to be closed for three days before the event, from 16 -18 November 2022, and 2 days after the gala dinner.