On Friday, 28 August 2020, Garuda Indonesia commenced flights connecting the West Java capital of Bandung with Medan, North Sumatra, and Denpasar, Bali.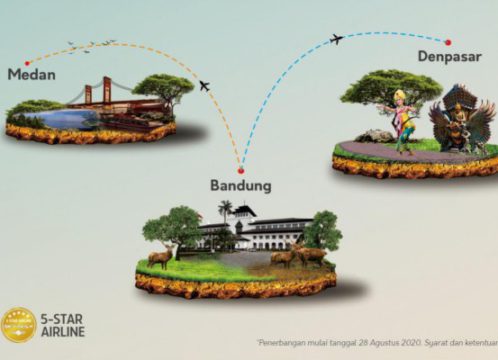 As reported by Kompas.com, the Jakarta Regional CEO of Garuda Indonesia, M. Yansverio, told an ASTINDO Webinar on Thursday, 27 August 2020: "Tomorrow (28 August 2020) we will open a new route from Bandung to Medan. People from Bandung wanting to fly to Medan no longer need to travel to Jakarta but can fly directly to Medan. Also, those in Bandung wanting to fly to Bali do not need to travel to Jakarta but can fly directly between Bandung and Bali."
Yansverio emphasized that Bandung's new services to Medan and Bali will not use the newly opened Kertajati Airport but, instead, fly from Bandung's older, city-center airport Husein Sastranegara.
The Kertajati Airport, built at the cost of US$245 million, was opened in June of 2018 and quickly proved to be extremely unpopular with the travelers. The second-largest airport in Indonesia in terms of acerage and boasting very modern facilities, the airport was intended to replace the city-center Bandung's Husein Sastranegara Airport. However, Travelers balked at the three-hour drive from Bandung to Kertajati Airport, leaving the sparkling new facility mostly empty and prompting airlines to cancel flights landing in the new airport due to a lack of passengers, even in the pre-pandemic period. Rather than drive 3-hours to Kertajati Airport, Bandung travelers opted instead to drive to the Soekarno-Hatta International Airport on Jakarta's outskirts that was only about 2-hours away from Central Bandung.
Perhaps signaling the government's surrender in its efforts to compel people to fly from Kertajati Airport, Yansverio commented during the Webinar, "there's no need to (drive) so far. It's (the Bandung airport) close if you're from Dago (a suburb of Bandung)." 
Garuda's sales and service manager in Bandung, Tessa Adelina, said the new routes would initially operate three times each week.
Bandung – Denpasar Bali.
The new flight service between Bandung and Bali will operate thrice-weekly on Wednesday, Friday, and Sunday leaving Bandung at 10:00 am WIB landing in Bali one-hour and thirty-five-minutes later at 12:35 pm WITA.
Denpasar, Bali -Bandung
Bali's flight segment to Bandung also operates on Wednesday, Friday, and Sunday leaving Bali at 2:00 pm WITA and landing in Bandung at 14:50 WIB.
Bandung – Medan
The Badung to Medan (Kualanamu Airport) flights will also operate on Wednesday, Friday, and Sunday leaving the West Java capital at 3:40 pm WIB and landing in Medan at 6:10 pm WIB.
Medan – Bandung
Operating on the same three days of the week, the westbound Medan to Bandung morning flight takes off at 6:30 am WIB and lands in Bandung at 9:10 am WIB.