The Jakarta Post reports devastating financial results for the Indonesian National Flag Carrier Garuda Indonesia that booked losses of US$712.73 million for the period January-June 2020. Compared to the US$24.11 million profit recorded by Garuda Indonesia during the same six-months one year before, the 2020 results represent a staggering 2,956% reversal in corporate fortunes.
The CEO of Garuda Indonesia, Irfan Setiaputra, blamed the Airline's losses on the global trends afflicting all airlines who are compelled to reduce flight frequencies and limit passenger loads due to the continual global pandemic.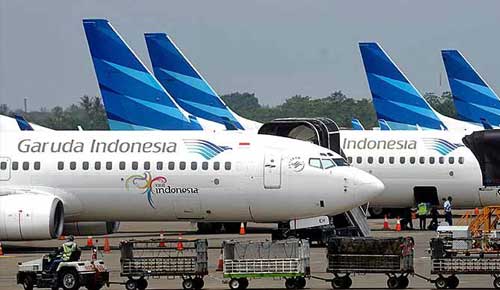 The Jakarta Post on Saturday, 01 August 2020, quoted Setiaputra, who said: "The COVID-19 pandemic has had a severe impact on the company's performance as our daily flight frequency has been reduced from around 400 to 100 flights. The number of passengers has also plummeted by around 90 percent."
Financial results filed with the Indonesian Stock Exchange (IDX), show revenues for H1 2020 decreased 58.2% year-on-year to only US$917 million.
Garuda's total revenue in the first six months of 2020 nosedived by 58.2 percent year-on-year to $917.28 million. 60% of the Airline's revenues derived from tickets sold on scheduled flights, totaling US$750.26 million for H1 2020. Seeking new sources of revenues, Garuda Indonesia booked US$21.55 million from charter and unscheduled flights in the first half of 2020 – an improvement of 400% year-on-year over 2019.
Cost-saving measures saw operating expenses reduced by 22% year-on-year to US$1.6 billion during the subject period. The Airline continues to reduce costs through renegotiation of aircraft lease agreements, restructuring its loans, and seeking cost efficiencies in all areas.
Indonesian tourism, as a whole, has taken a real beating because of the COVID-19 crisis. The Government estimates losses across the tourism sector amounted to US$5.87 billion for the first half of 2020. Hotel and restaurant losses are put at Rp. 70 trillion.
To keep the National Flag Carrier operating, the Indonesian Government has approved a Rp. 8.5 trillion mandatory convertible bond scheme (MCB) that will convert into shares owned by the bonds' guarantor PT Sarana Multi Infrastruktur (SMI) in three years.
Because of the worsening condition of Indonesian tourism, many questioned if the MCB support would be sufficient to meet Garuda Indonesia's urgent need for cash.
Share prices for Garuda Indonesia (GIAA) on the Indonesian Stock Exchange (IDX) are trading at historical "penny stock" lows. On 06 August 2020, GIAA stocks traded at Rp. 238 per share, up slightly for a 52-week-low of Rp. 130 per share.
GIAA shares have lost 53.41% of their value thus far in 2020.