As reported by Kumparan.com, on Friday, 03 July 2020, Bali Governor Wayan Koster shared his views on the recent increase in COVID-19 cases in Bali that have affected all eight regencies and the municipality of Denpasar.
Governor Koster focused his comments on the local transmission of the novel coronavirus in the City of Denpasar that he contends is being spread by asymptomatic people. In sharing his mounting concerns, Koster described the current situation as quite severe and dangerous because all areas were affected. Denpasar has become a "red zone" for COVID-19 feeding infections on all the other regions of the Island, said Koster.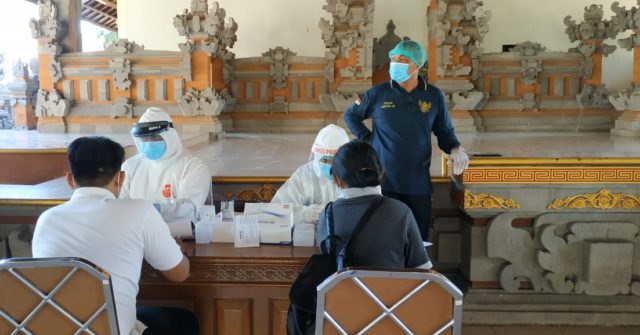 The Governor explained that if Denpasar has a high rate of COVID-19 infections, then all villages and districts will also suffer badly.
Speaking on Friday, 03 July 2020, Koster said there are 630 positive cases of COVID-19 in the City of Denpasar – broken down further into 224 cases that have been cured, 395 who are hospitalized, and 11 fatalities.
The Governor promised to quickly convene all officials to increase efforts to halt the spread of the disease. Claiming that mere discussions and talks were insufficient, he hopes that officials will take quick action to end the cycle of infection.
Meanwhile, Koster asked officials in the Regency of Gianyar to begin conducting rapid tests following the discovery of 22 new infections in that regency on Wednesday, 02 July 2020. Tracking the new infections, health officials identified the Galiran Market in Klungkung Regency where traders spread COVID-19 to Karangasem, Bangli, and, then, to Gianyar.
The Governor is seeking intensified rapid testing in all heavily contagious red zones that include the City of Denpasar, Klungkung Regency, and Badung Regency. Koster feels regency administrators in Tabanan, Jembrana, Buleleng, and Karangasem had all done a good job containing the coronavirus's spread through their quick action and coordination.
Underlining the urgent need for more rapid testing, Governor Koster pledged his full back-up. Adding: "If thousands of rapid tests are needed, I will supply them. If you don't have enough medical personnel, I will provide medical staff. If you lack money, I will provide it. What's for certain is that this must be done with good communication, fast coordination, and rapid action."