Coming together to inspire the community, The Apurva Kempinski Bali has formed a joint-venture initiative with some of Indonesia's leading sustainable brands in a shared effort to reduce the carbon footprint of modern weddings. Dubbed the "sustainable wedding package" that yields not only "happily ever after relationships" but wisely uses, reduces, and recovers precious resources for every single wedding and many future weddings to come.
The nuptial network for sustainability included Designmill Co., SukkhaCitta, Puri Ata, Taga Woodcraft, Plaga Farm, Tanamera Coffee, and Balian Water.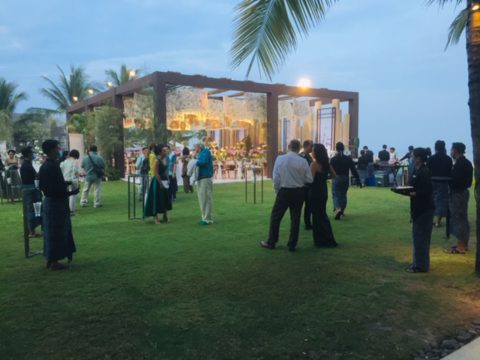 Designmill Co. participation in the project allowed them to showcase their expertise in providing decorative aspects for a low-carbon-footprint wedding. Recycled papeteries, wooden chairs, and potted plants are used to decorate the venue, together with hanging natural fabrics radiating printed customized motifs. The event decorator also incorporated the fashion label Kaeen – known for sharing Indonesian creativity through fabrics.
Another fashion partner joining the collaboration was SukkhaCitta- an award-winning social enterprise that focuses on changing lives in rural Indonesia, pioneering sustainable wedding gowns. This sustainable fashion has been recognized with a B-corp certification, a certification exclusively bestowed on companies generating a positive social and environmental impact.
Puri Ata and Taga Woodcraft provided locally handmade crafts as sustainable wedding gifts.
Plaga Farm has partnered with the Resort by providing high-quality products that sustain the Island's agriculturalists and its environment for food and beverages requirements. Meanwhile, other local farmers offer organically produced items that graced a sumptuous menu for the evening. Tanamera Coffee and Balian Water provided beverages reflecting the two companies' respect for the Island's ecosystem and the daily welfare of local communities.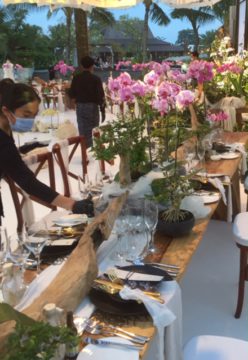 To promote and launch this innovative movement, The Apurva Kempinski Bali hosted a gala sustainable wedding event on Friday, 29 April 2022, in the seaside garden adjacent to the hotel's wedding chapel.
Since opening on 1 February 2019, The Apurva Kempinski Bali has consistently and unfailingly shown its commitment to the environment and sustainability. These include using its rooftop space to grow organic products that eventually make their way to the Resort's tables. Plants are grown hydroponically and in other mediums focusing on good soil conservation practice.
A "Green Linen Artefact" has been introduced, allowing guests to augment their local experience. In collaboration with Diversey, the 'Linens for Life' program provides free face masks made from hygienically-clean hotel linen to disadvantaged groups in the local community. Similarly, a "Soap for Hope program" provides "at-risk people" access to soap with supplementary information on its use. In this way, soaps from the Resort are cut, disinfected, and remolded to form high-quality bars of soap.
"By introducing new initiatives, we strongly believe that we can inspire people to incorporate sustainability into all aspects of their daily lives," said Vincent Guironnet, general manager of the Resort. "This is, even more, the case when partners come together, generating new ways of thinking and genuinely making a difference."
The Partners at the Sustainable Wedding Event
Designmill Co. – Wedding Decorator
Designmill Co. boasts a unique approach to wedding planning, focusing on intimate events tailored for its clients. Elegant and functional, with attention to detail along every step of the way, this popular wedding decorator's vision has evolved, allowing this company to focus its efforts and energy and sustainability.
SukkhaCitta – Fashion
SukkhaCitta is an ethical fashion company dedicated to empowerment, ethical and sustainable production, and environmental responsibility. This is reflected in how this award-winning social enterprise incorporates three pillars into everything it does: empowering women, regenerating ecosystems, and sustaining the local culture.
Puri Ata & Taga Woodcraft – Handicrafts
Puri Ata and Taga Woodcraft promote the local wisdom and craftsmanship of the Island's indigenous population. All their products are handmade, contributing to creating a stable source of income for both the artisans and their families.
Tanamera Coffee, Plaga Farm, and Balian Water – Food and Beverage
Tanamera Coffee, Plaga Farm, and Balian Water are known for fostering a sustainable environment in their respective areas of entrepreneurial endeavor. The three brands embrace and involve the local community in creating their products.
Related Links
The Apurva Kempinski Bali Website
Weddings at The Apurva Kempinski Bali Website
Email on the tailor-made Sustainable Wedding Package at The Apurva Kempinski Bali