The chairman of the Indonesian Hindu Dharma Society (PHDI), Dr. Drs. I Gusti Ngurah Sudiana, held meetings with the PHDI Communications, Mediation and Advocacy Team and the Bali Representatives of The International Society for Krishna Consciousness (ISKCON-Hare Krishna) on Wednesday, 22 July 2020. The purpose of the meeting was to quell a growing controversy on social media outlets in Bali surrounding the Hare Krishna movement.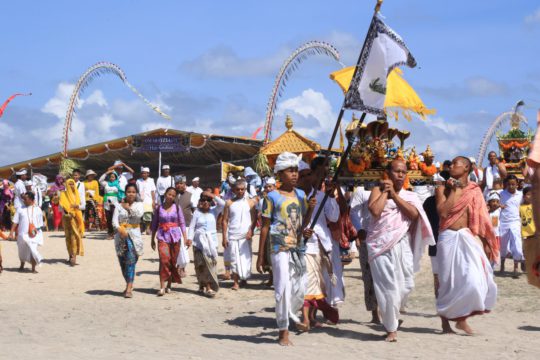 As reported by Beritabali.com on Friday, 31 July 2020, PHDI-Bali urged the chairman of the ISKCON Foundation to advise its members to avoid holding any Hare Krishna public events to prevent creating any points of friction with the public.
The International Society for Krishna Consciousness, more widely known as the Hare Krishna movement, is a Gaudiya Vaishnava Hindu religious organization founded in 1966 in New York City by A. C. Bhaktivedanta Swami Prabhupada.
In Bali, Sudiana urged the Hare Krishnas to limit any ceremonies to their Ashrams.
The PHDI chairman also urged all parties to avoid any actions that might disturb public order during the current polemic while a special team from PHDI reviews all related documents. Sudiana called for the public not to be provoked by postings on social media intended to heighten tensions among Hindu followers.
Finally, Sudiana, in his capacity as PHDI chairman, pleaded for all parties to respect and execute peacefully any final findings and decisions arrived at by the National PHDI Board.