Teaming efforts with Diversay Solutions Ltd, Hotel Nikko Bali Benoa Beach is preparing a customized set of protocols for cleanliness, health, and safety (CHS) program in anticipation of the Resort's resumption of operations on Tuesday, 16 June 2020.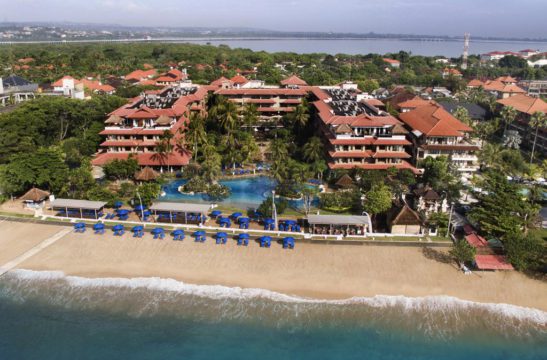 Diversay Solutions Ltd is a leading company specializing in professional cleaning and hygiene solutions for Indonesia's hospitality industry.
The Hotel Nikko Bali Benoa Beach Resort's CHS Program contains comprehensive protocols that highlight new intensified hygiene standards and new regulations to ensure the safety of both the guests and staff members. The program is fully compliant with the safety standards recommended by the World Health Organization and Okura Nikko Hotel Management guidelines.
Some of the newly adopted standard operating procedures (SOPs) include:
● Minimum of a 24-hours interval between room assignment after check out and new guest check-in.
● The replacement of the breakfast buffet with in-room dining service, on request, without additional charge.
● Intensified cleaning for all "high-touch points," including guest rooms, restaurants, and public areas.
The program also recommends using staircases instead of elevators to avoid the sharing of an enclosed space with other guests. Because the hotel is a 4-story-high building, this also offers a healthier alternative that promotes exercise.
With the Resort's re-opening, physical distancing must be observed in restaurants & bars. Meanwhile, on the beach and pool area, sunbeds are also separated by a distance of 2-meters.
For guests requiring medical assistance, the hotel has an in-house clinic that is open daily with a doctor on call 24-hours. For emergencies, guests will be referred to the nearby internationally certified BIMC Hospital that is only a 5-minute drive from the Resort.
"We are ready to welcome back our guests on 16 June, and we want to provide all of our guests with peace of mind while staying with us. Our Cleanliness and Hygiene standards are certified by Diversey, a world-leading and trusted name in the industry for their years of experience in hygiene and sanitation practice. We will strive at our very best to lead and gain the confidence of the public to travel again," said Masaya Hasebe, general manager of The Hotel Nikko Bali Benoa Beach.
The CHS program will be continuously reviewed and updated to stay current with the latest developments and scientific findings regarding COVID-19.