As reported by Kompas.com, the continuing coronavirus pandemic has not only affected the global economy but also had a devastating impact on the aviation industry. Not exempt from the economic trials and tribulations visited on the world by COVID-19, Indonesia's aviation sector is undergoing fundamental changes that will be felt for decades to come.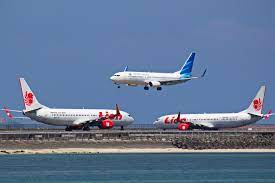 Many Indonesian Airlines, crippled by reduced traffic and curtailed route networks, have been compelled to retrench, retire, and dismiss employees. The National Flag Carrier Garuda Indonesia is actively offering early retirement to its workers, while Sriwijaya Air is urging a large number on its payroll to resign.
Sriwijaya Air
Sriwijaya Air has offered incentives to selected employees to resign or retire voluntarily. Declining financial liquidity and diminished cash flows brought on by the global pandemic have fundamentally change to business profiles of every airlines not in operation.
This fact is also reflected in the contents of a recent internal memorandum of the Sriwijaya Air Group on retirement options for its workers. This move follows an earlier move on 25 September 2021 to furlough a large number of employees. The subject internal memorandum issued on Tuesday, 25 May 2021, said a further reduction in staff was necessary to safeguard the Company's future. The measures to accelerate reducing workers, offer one month's severance pay to those with one to three years' seniority with the Airline. Workers with between three and six years' seniority are eligible to receive a stipend of two months' wages upon resignation. Finally, Sriwijaya workers with more than six years at the Company are eligible for three months' severance wages.
Meanwhile, Sriwijaya employees on "home furlough" will see their 25% pay packet based on their current salaries trimmed further to only 10% under the new cost-cutting procedures.
Garuda Indonesia
The national flag carrier, Garuda Indonesia, is also suffering "business turbulence" as its struggles to maintain financial viability. Garuda is offering early retirement to many of its workers. The CEO of Garuda Indonesia described this move as part of several strategic steps being put in place to revitalize and restore economic health to the Airline. 
These steps taken by Garuda Indonesia include managing lines of supply and demand to address reduced revenue streams. In discussing the early retirement program of Garuda, the Airline's CEO, Irfan Setiaputra, explained that the current program of voluntary retirement was available to employees who met specific criteria.
Separately, the Garuda Indonesia's Trade Union is lobbying the Indonesian President to provide more support to the National Flag Carrier to prevent further dismissals.
Lion Air Group
The Lion Air Group announced in early July 2020 that both Indonesian and foreign workers would be terminated based on current working contracts and their date of expiration. At the same time, the Lion Air Group opened discussions with all business partners that would see the salary levels of executives and workers reduced across the board.
Susi Air
The Indonesian Airline – Susi Air, owned by former Indonesian Sea and Fisheries Minister Susi Pudjiastuti, has also terminated employees due to the coronavirus pandemic. "We have also had to furlough and terminate employees," explained Susi via her Twitter Account. Susi confirmed that almost 99% of the flight operated by her Airline have been suspended due to the pandemic. 
Air Asia Indonesia
In August 2020, AirAsia Indonesia cut the salaries and working hours of some 533 workers. AirAsia Indonesia has furloughed 873 workers, with a furthers 328 workers undergoing measures that include pay cuts.