A 36-year-old Irish expatriate living in the Canggu Area of Bali, Matthew Robert McTurk, is in police custody, facing a maximum sentence of nine years in prison for his involvement in a hit-and-run accident that resulted in the death of a 50-year-old Balinese woman, Ni Wayan Madiani, on Thursday, 27 July 2023.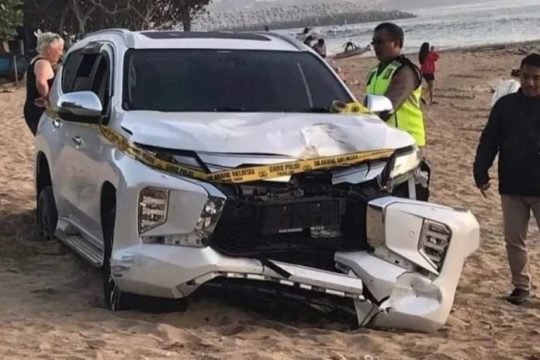 The accident occurred on Jalan Sunset Road in Kuta near the intersection of Jalan Kunti. The incident, involving three separate vehicles, occurred at around 1:35 p.m..The vehicles were a Honda Vario motorcycle driven by Ni Wayan Madiani, a Mitsubishi Pajero Sport SUV driven by Irishman Matthew Robert McTurk, and a Yaris Sedan driven by an Indonesian man Hariyanto Christian H.
The vehicles were diving in a north-south direction.
As reported by detik.com, the tragic accident unfolded at a traffic light displaying a red stop light. McTurk failed to stop, hitting the rear of a Toyota Yaris before reversing and hurriedly turning to the east, striking the motorcycle driven by Wayan Madiani.
The Head of the Traffic Division (Wakasatlantas) from the Denpasar Police Precinct, AKP Aan Saputra, quoted by detik.com, said: "McTurk knew a victim was lying on the roadway. The driver was an Irish national who fled the accident scene."
Ni Wayan Madiani was reported dead at the scene of the accident.
The Chief of the Denpasar Police Precinct, Police Commissioner Bambang Yugo Pamungkas, told the press that McTurk, who fled the scene, was intoxicated and panicked, fleeing when the driver of the Yaris tried to approach him.
Bambang reported that McTurk drove around local streets in his badly damaged white Mitsubishi Pajero before hurriedly abandoning the car in a beachside location in Sanur Village.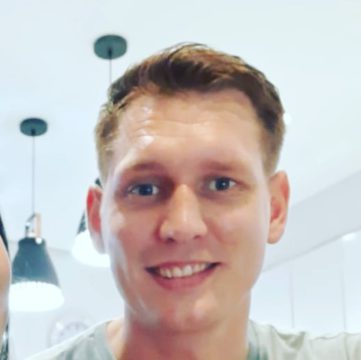 The abandoned car had suffered significant damage to its front grill and bumper. The windows of the vehicle were open, and the air-conditioning was operating. Police impounded the damaged car and quickly traced it to Matthew Robert McTurk, who police were able to arrest in the Canggu area of Kuta.
Police say the drunken Irishman used an online vehicle service to return to Canggu after abandoning his SUV in Sanur. Police postulate that at the time of his arrest, McTurk was preparing to travel to Bal's Ngurah Rai Airport in order to flee the country.
According to Facebook, McTurk lives in Canggu with his wife and two children, listing his occupation as a Senior International Sales and Marketing Consultant on Facebook.
Police Commissioner Bambang said McTurk holds a permanent resident permit (KITAP). Bambang said McTurk had been drinking at three locations and become inebriated before the fatal mid-day crash. Police say McTurk was drinking with two friends at The Social in Seminyak, Orchard Bar and Restaurant, and Legian Seafood before the accident.
Multiple Criminal Charges to Apply
Police say they plan to file multiple criminal charges against the Irish National, who has been in police custody since Thursday, 27 July 2023.
Police plan to charge McTurk under Article 310 paragraph 4 of Law Number 22 of 2009 on Traffic and Public Transport (UU LLAJ), which carries a maximum penalty of six years in prison and a fine of Rp. 12 million. A supplemental charge will also apply under Article 310 of UU LLAJ for the hit-and-run, which stipulates a maximum penalty of three years imprisonment. The two laws provide a maximum prison sentence of nine years.
Related Articles
Criminal Liability for RI Bar Operators
Many Fly Over The Cuckoo's Nest in Bali
Minding Ps & Qs, Do's & Don'ts in Bali
Irish Woman Sent to Bali's Mental Asylum
47 Detained by Immigration Jan-June 2023
A Bad Nude Dance by Mata Hari in Ubud
Mind Your Manner Bali Billboards Planned
Bali to Limit Number of Foreign Tourists?
Brisbane-bound Bogans Bounced by Jetstar
Luhut: Tax & Discipline Foreign Tourists
Bali Deports Harlots & Driving Instructors
Police Campaign Against Errant Motorists
Bali Unites to Rein in Errant Foreigners
Rubbing People the Wrong Way in Bali
Brit Goes from Drugs to Grand Theft in Bali
194 Foreigners Deported from Bali in 2022
Stay Informed on Bali Tourism-Related News: Subscribe to Bali Update