A Jetstar flight – JQ 35 – traveling from Melbourne to Bali on Tuesday, 27 December 2022, was well on its way when it was compelled to return to base and bring its full complement of passengers and crew back to Tullamarine Airport.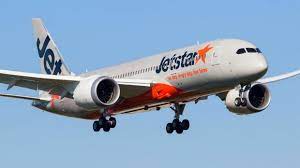 According to News.com.au, the Jetstar flight was already approaching Australia's West Coast near Broome, Western Australia, when the Captain decided to reverse direction and fly back to Melbourne.
The flight diversion and cancellation became necessary when it was discovered that the Boeing 787 Dreamliner lacked permission to land in Bali. Jetstar management still needed to update its existing permit to land an Airbus A-321 aircraft after they decided to use a larger airplane (B 787) due to high seasonal passenger demand. 
The passengers sent back to Melbourne were reportedly not in the best mood. Originally booked to depart at 6:00 pm, passengers waited due to technical issues until 11:00 pm on 27 December to leave Melbourne. The pilot announced the return to Melbourne rather than opting instead to land in nearby Darwin or Perth.
The Jetstar Flight loaded with holidaymakers landed back in Melbourne 8 hours after leaving the same airport for Bali.
The administrative failure by Jetstar to obtain the proper flight permit is termed "a miscommunication" by Jetstar's management. Jetstar changed the flight from an Airbus-321 aircraft to a larger Boeing 787 Dreamliner to accommodate increased passenger demand over the holiday period. This, however, was done without first obtaining the needed agreement of the Indonesian Civil Aviation Authorities.
Admitting its error, Jetstar has apologized to all passengers, rebooked them on the next flight, and pledged to reimburse the cost of hotels and meals in Melbourne.
Jetstar told the press they are investigating the incident to determine how the serious miscommunication could have occurred.
The flight, JQ35, had been flying for four hours when it turned around and headed back to Victoria.
The original schedule for JQ35 was for the flight to leave Melbourne at 6:15 pm to arrive at 9:15 pm (local time) in Denpasar on Tuesday night. Technical issues caused the flight to leave late at 11:02 pm, only to land back in Melbourne at 9:47 am.
Related Link