Indonesian 'X" Files
Life can be full of contradiction. This is perhaps nowhere more evident than in the life of 22-year-old competitive bodybuilder John Khan who hails from a small village in Central Sulawesi.
As shown in the accompanying photographs, John Khan has an impressive bodybuilder's physique. He has even competed in the 60-kilogram category at a Southeast Asia bodybuilding event in Gorontalo, Minahasa, Sulawesi in 2019.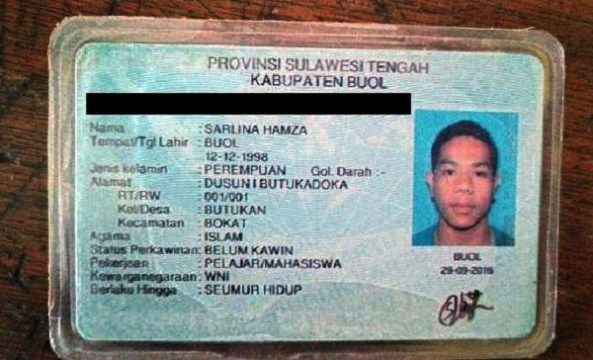 That John is a dedicated athlete is demonstrated in the accompanying photos that show his manly torso and highly-defined biceps.
But, John Khan's life, dating from his birth in Butukan Village in Central Sulawesi, has been clouded in ambiguity and contradiction.
As Beritasatu and The Jakarta Globe reported, John's birth certificate records record him being born a young girl named Sarlina Hamza, a sexual identity, and a name chosen for him by those attending his birth because he exhibited both primary male and female sexual characteristics.
Quoted by Beritasatu, John admitted: "I was born a woman. I even visited the doctor. My hormone test result shows that I have more male hormones at around 90 percent." He added that as a young child, "Sarlina" wore skirts while attending elementary school and played with girlish cooking sets. As his education continued and a pronounced male appearance manifested itself, teachers and professors called the future bodybuilder "John" in class but would summon Sarlina Hamza when taking attendance.
As a teenager, John discovered a gymnasium and focused there on personal physical development. Over time, she eventually participated in competitive bodybuilding as a young and very fit young man.
Don't Ask, Don't Tell.
Because of her masculine physique, John successfully competed against other young men. "At the time, I only relied on my confidence. I could compete because the committee did not ask about my gender," she said.
An all-around athlete, Sarlina also participated – always as a young man – in basketball, boxing, and rowing. During her boxing phase, she met Indonesian boxer Chris John in 2019 and was so impressed with the legendary pugilist that she decided to adopt the name "John Kahn."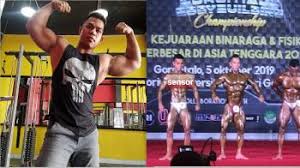 By necessity, John Kahn navigates the course of a complicated life. Indonesia struggles to deal with a woman who identifies and appears very much to be a man. Meanwhile, John works as a gym instructor in Boul, Sulawesi, where he dedicates himself to developing his full potential as a bodybuilder, idolizing champion bodybuilders such as Iwan Samurai and Ade Rai.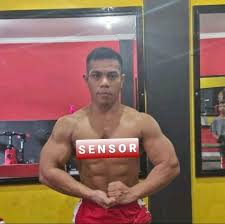 Meanwhile, adopting a "don't ask, don't tell" stance regarding John Kahn's gender, Indonesia continues to allow him to compete in the male category at bodybuilding competitions. Yet, from time to door, this presents practical problems on other levels. This is nowhere more evident than when the Indonesian media publishes pictures of John Kahn posing with a group of other bodybuilders on stage wearing only posing trunks. Incongruously, but in keeping with strict pornography laws and cultural custom, only John Kahn's bare breasts are blacked out and censored among a row of otherwise uncensored bodybuilders' torsos. The reasoning, presumably, is that John's bare breasts are also Sarlina's bare breasts and are therefore not acceptable for public display.