The Rotary Club of Bali Seminyak (RCBS) is celebrating its
20th anniversary by hosting a gathering and luncheon event on
Sunday, 19 June for Rotarians, Rotarian families, general community members, and 350-400 underprivileged members of the community living in a local landfill.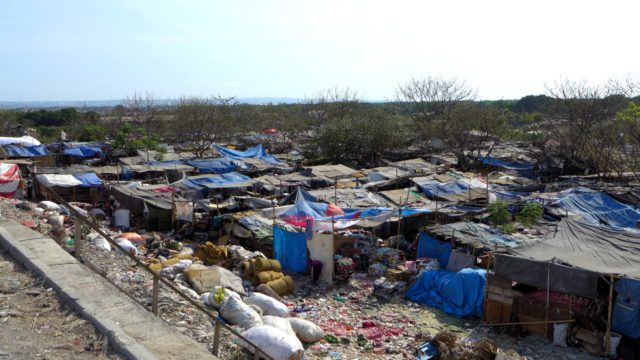 The Sunday gathering and luncheon will take place in a recycling area near the Jalan Nakula and Jalan Sunset intersection in Legian.
As part of the anniversary celebration, a buffet luncheon will be served from 10:00 – 14:00 so that the club members and community members can spend some time with a large group of Bali's least fortunate residents forced to live on a day-to-day basis in a recycling area.
Following the shared lunch, the underprivileged guests will be given an opportunity to select clothing donated by the SMILE Foundation and take out bags from The Bali International Women's Association (BIWA) and be also be given valuable parcels of basic foodstuff ('Sembako") to take home. 
The entire day built around having lunch together with underprivileged community members reflects the continuing commitment of Rotary Club Seminyak to their organization's motto of "Service Above Self."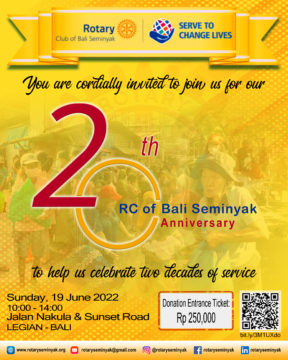 Why feed the underprivileged in the Legian area?
With the onset of COVID-19, malnutrition in Bali increased to record-high levels in rural and urban areas. This resulted in downturns in tourism that saw many people in Bali fall into very difficult times. In response to this need, the RCBS initiated a food program that distributed small packaged meals called 'Nasi Jinggos' and 'Nasi Bungkus' on Jalan Sunset Road. This movement quickly evolved into distributing food parcels of essential foods – 'Sembakos" to needy people in several recycling areas in Legian. From September 2021 to May 2022, nearly 5,000 meals and food parcels were distributed to families living in selected impoverished regions of Bali. 
With the generous support of a group of donors, including PT Soejasch Bali, the food program of the Rotary Club Bali Seminyak, the RCBS' food program has proven a great success.
Members of the larger community are welcome to join what promises to be an uplifting occasion operating between 10:00 am and 2:00 pm at the intersection of Jalan Nakula and Sunset Road in Legian. Tickets are available for Rp. 250,000 each and can be ordered online.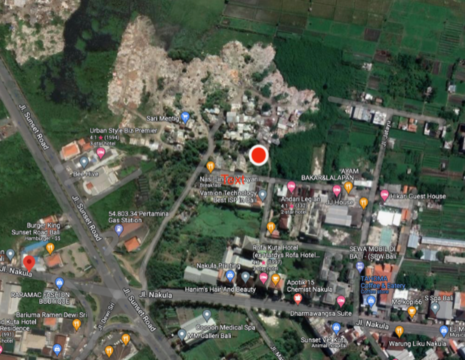 Rotary in Bali
The Rotary Club of Bali Seminyak is one of six English-speaking clubs with 30 members among the 32 clubs in Bali. Over the past 20 years, the RCBS has implemented 14 Global Grants with substantial impactful funding with International Partners and in collaboration with the Rotary Foundation for projects in Bali, Flores, Halmahera, Sumba, and Sumbawa.