Out of the way and tucked away in a jungle and rice field setting less than a 20-minutes from Central Ubud is the Keliki Luxury Lodge. Armed with a geographical fix courtesy of Google Maps, those searching for a truly unique Bali experience have truly "arrived in a private paradise" when they come to a halt at the dead-end road (Jalan Sudamala) in the Village of Keliki in Tegallalang, north of Ubud.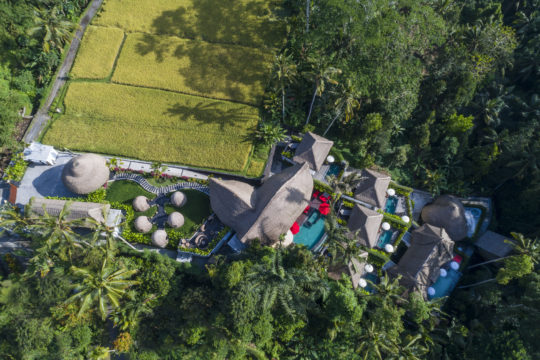 When standing at the reception of Keliki Luxury Lodge, even the most experienced traveler can justifiably claim to have "finally arrived." Keliki Luxury Lodge is perfectly placed to enjoy Bali's natural environment in a unique jungle locale positioned along a flowing river. Four lodges with two terrace villas each with private pool. Meanwhile. a communal pool, located upstairs and contiguous to the mezzanine dining area, is a convenient gathering place and open to those taking a lunch break at Keliki during their tour of Bali.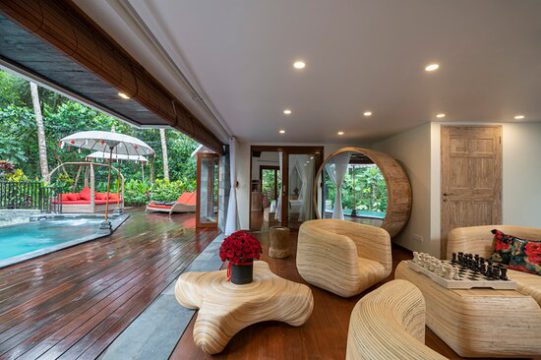 Bedding configurations at The Lodge offer twin-bedded or king beds – all providing views to large screen satellite TVs supplemented by WiFi Internet. Two lodges have private exterior bathtubs and showers as well as indoor bathrooms with a shower and double sink arrangements.
Outdoor relaxation on a spacious veranda is facilitated with loungers and umbrellas.
A large villa positioned on the jungle's edge is suitable for families or groups of 6 or more friends, equipped with two Jacuzzis and an extended deck overlooking the verdant jungle. A discretely positioned outside bathtub allow guests to meditate, soak, and relax – at one with nature.
All villas feature luxuriant amenities ranging from bathrobes, slippers, soaps, shampoos, hair conditioners, body lotions, and antiseptic hand cleansers.
RESOURCE SPA
The Keliki Lodge redefines luxury in a spacious bamboo spa that boasts two separate treatment rooms suitable for couples, offering professional massage, reflexology, facials, manicures, and pedicures.
Aromatherapy, massage therapy, and the soothing sound of nature combine for guests who opt to enjoy their massage session on the Lodge's unique Bamboo-bridge spanning a river that flows through the Resort. The Bamboo-bridge is also a suitable locale for yoga practice, small meetings, and romantic dinners.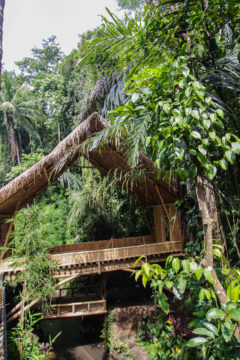 Also available at the Resort is a well-equipped fitness club.
A gourmet kitchen serves two food and beverage outlets. Guests can dine starting from 7:00 a.m. at a restaurant adjacent to the infinity pool, where walk-in-diners are also welcome to take a dip.
An ultimate culinary experience awaits at The Keliki Lodge's Le Gastronome and Bamboo Nest, where elegant afternoon teas, romantic meals, and fine dining are featured. Customized menus – some serving specialized Balinese cuisine – are best ordered one day in advance, while a la carte selections are available throughout the day.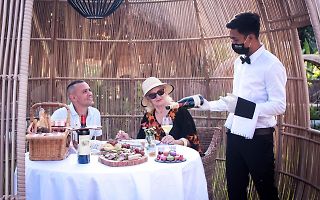 The Keliki Lodge invites guests to partake in the gentle steps to assimilate with the surrounding local community. Quality fruits and vegetables grown by local farmers feature prominently in popular cooking classes held at the Resort. Young villagers lead private "off-the-beaten-track" tours. Spend an afternoon participating in a "painting class" held in the studio of an accomplished local artist. Experienced local guides and drivers can gently provide access to local traditions and ceremonies or even introduce guests to a respected local healer (Balian).
At Keliki, the management and staff embrace the Balinese mantra of "Tat Twam Asi," which professes we are all part of a greater whole – a shared destiny that demands mutual respect, care, and attention. Balinese architecture, art, stylish furnishings, and structural finishes embrace and celebrate the talent and art of the Island of Bali.
Determined to reduce its carbon footprint, thoughtful steps are in place to make every aspect of The Keliki's operations green and environmentally friendly. Surrounded by ancient rice fields, an outreach program lends agricultural support and English lessons without charge to local families.
The Keliki Luxury Lodge – slightly out of the way but very much "out of this world" for those in search of a tranquil, truly Balinese interlude