It's kite flying season in Bali, and the shoreside skies are filled in every direction with large kites. And while the number of commercial air flights operating in and out of Bali's Ngurah Rai Airport is substantially reduced due to the COVID-19 Pandemic, kites continue to threaten air safety Bali.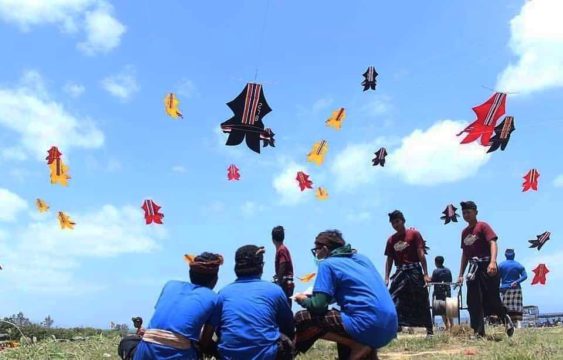 Kite flying is forbidden explicitly under the law within a 9-kilometer radius of Bali's Airport.
The managers of Bali's Airport PT Angkasa Pura, Airnav Denpasar who control Bali's airspace, and KP3U Ngurah Rai who provide security for the airport – have all been busy socializing the fact that flying kites within 9-kilometers of Bali's Airport is not only a danger to aircraft but also a crime punishable with prison time.
Despite the best efforts of the authorities mentioned above, Tribunbali.com reports that some residents living near the airport defiantly continue to place enormous kites and the strings that secure them close to flying aircraft.
An urgent meeting of the relevant aviation agencies was convened on Wednesday, 24 June 2020, to resolve the threat posed by kite flying to Bali aviation.
The Chief of Airport Operations for District IV, Elfi Amir, described the chain of command that must be deployed to apprehend people flying kites. "The urgency of handling the kite flying near the airport starts with the Airnav report, followed up by Aviation Security in collaboration with the I Gusti Ngurah Rai Military Command, and, finally, Airport Police who can then move to secure the Airport from dangerous kite flying."
Related Article