A 31-year-old Sierra Leone man, Emmanuel O Ihejirika, convicted in Bali in 2004 of trying to smuggle 461 grams of heroin concealed in his alimentary tract, has seen his death sentence commuted to a 20-year prison sentence.
In 2004, Emmanuel swallowed 31 condom capsules weighing 461 grams containing heroin. Custom officials compelled the man to undergo x-rays at a Bali hospital resulting in a trial and a life sentence in 2005.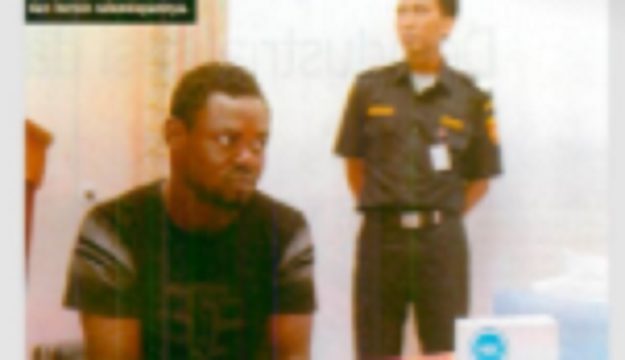 When that sentence was appealed to a higher court, Emmanuel's life sentence was changed to the punishment of death before a firing squad.
In 2014, Emmanuel's name was listed among a group of prisoners to be imminently executed. However, the execution was delayed when his Bali lawyers, Robert Khuwana and Frans Hendra Winata, filed another appeal to the High Courts.
Commenting on Monday, 13 September 2021, regarding Emmanuel's commutation of sentence to 20 years in prison, Robert Khuwana told RadarBali.com: "With the appeal decision of 20 years in prison, Emmanuel, who has been in jail since 2004, can be freed in 2024.
Indonesia's last executions before a firing squad saw four men shot in 2016, three of whom were foreign nationals. In 2015, 14 prisoners on death row were executed, including 12 foreigners and one Indonesian female.
Bali Nine
Myuran Sukumaran and Andrew Chan, two of the notorious "Bali Nine," were executed in 2015. A third, Tab Duc Thanh Nguyen died of cancer in 2018 while serving a life sentence. Renae Lawrence, the sole female among the "Bali Nine," saw her life imprisonment commuted to 20 years in jail in 2006 and was released and returned to Australia in 2018. The remaining five "Bali Nine" are serving life terms for their crime.
Lindsay June Sandford
A 65-year old English woman, Lindsay June Sandford, has been on death row at Bali's Kerobokan prison since 2012, after she was caught trying to smuggle 4.8 kilograms of cocaine into Bali and subsequently sentenced to death, on appeal, in early 2013