Tribun-Bali.com reports that an online petition has appeared on change.org purportedly posted by a Batik Air Stewardess. The petition is demanding Annual bonus payments (THR) and transparency regarding how wages are paid to Batik flight attendants recently passed 1,326 signees.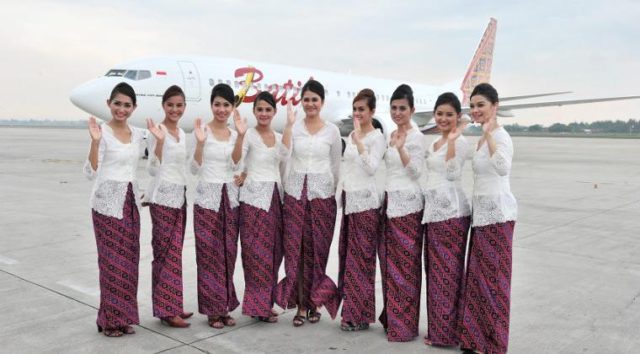 The petition complains that flight attendants receive their wages as a lump sum paid into their accounts without any explanation or a breakdown on actual flight hours, progressive wage breakdowns, and a summary of wage deductions.
The stewardess complained: "Every time we want a breakdown, we must send an email to the finance department. But those emails never get a reply." She continued: "In fact, our work contract stipulates that the 'second party' or, in this case, the stewardess must be supplied with the breakdown on the salary she will receive."
The complaining cabin crew said she had requested a breakdown on her wages at least once every three months, all to no avail.
"Our wages are allegedly 'cut' every three months for accommodation (mess) and Insurance (bpjs). But we do not stay in a 'mess," but this is deducted, and we are never provided with transportation expense reimbursement," she lamented.
Flight Attendants for Batik Air claim they were compelled to sign an agreement permitting their wages to be reduced due to low passenger loads during the COVID-19 Pandemic. She also claimed that flight attendants were advised via a WhatsApp Group that their salaries would be cut, and they must sign an agreement accepting a salary cut. Attempts to receive a written breakdown of the deductions from their pay were unsuccessful.
Similarly, attempts have been unsuccessful to receive a written explanation from the Airline's management on the failure to be paid the annual holiday bonus (THR) mandated under the law. The unnamed stewardess said: "We have only been told the there is no THR. That's it. There's been no agreement on whether the payment (of the THR) will be made in installments or postponed until some point in the future. The management has unilaterally taken all these decisions."
When one of the flight attendants managed to contact their boss to ask about the THR, then were told, "you're lucky to have a job still and have not been terminated."
The stewardess questioned if this is the proper response to someone simply requesting their rights under the law.
Batik Air's Management Comments
Danang Mandala Prihantoro, Corporate Strategic Communications of theLion Air Group, said in an online interview on Wednesday, 20 May 2020, "The Lion Air Group is in the midst of a difficult and challenging time in a situation created by COVID-19 where we confront a considerable uncertainty. Danang said the Pandemic had rendered the aviation industry almost lifeless, unable to operate domestic and international flights in a normal fashion.
Danang bemoaned the continuing expenses incurred by Airlines worldwide that represent a significant burden. This has also been the experience of the Lion Air Group, compelling the Airline's management to take steps that will allow the company to survive. The Airline spokesperson admitted that many of the decisions made by Lion Air's Management have been unpopular. Adding, "The member companies of the Lion Air Group have take decisions intended to help the companies survive."
Lion Air continues to operate some flights in a situation that is not conducive to profitability. Only 5% of the Airline's fleet is flying, carrying loads system-wide of only 1,000 passengers per day.
To conserve cash and reduce expenses during these troubled times, The Lion Air Group has entered into discussions with suppliers and temporarily cut managed and staff wages since March 2020. Staf members receiving higher levels of pay have taken more significant cuts in their pay packages.
Meanwhile, the Airline's management continues to monitor developments trying to calculate when domestic and international flights can resume normal levels of operations.
Like other Indonesian companies, Lion Air pays larges bonuses to its Muslim workers on the Eid holidays. However, in the current Pandemic with minimal cash resources, the Airline has taken the following steps:
The THR is only given at this time only to lower-level employees earing the regional minimum wage employed as cleaners, security, porters, and other menial workers. For these employees, only a partial payment THR is paid with the remainder to be paid when the Airline returns to normal operations.
Mid-level employees, including mechanics, cabin crew, and staff will be paid their THR when normal levels of flight operations return.
Higher-level employees, including cockpit crew, structural workers, and management, will be paid when the Airline returns to normal operations.
Danang insists that The Lion Air Group has yet to consider terminating workers (PHK) among its more than 29,000 employees. The management continues to monitor the situation closely while deciding what further strategic steps are needed to ensure the continuing operation of the Airline.
Danang said: "We wish to thank our staff and other parties for their support that allows us to continue to operate. We hope that the COVID-19 Pandemic will soon end, allowing normal levels of flight operations to resume."