Bali is a family-friendly destination with many local attractions of possible interest for both solo and family groups on offer.
Here is a beginning list.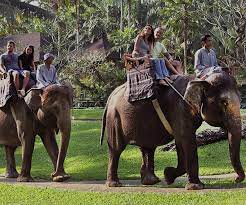 Mason Elephant Park
One of these attractions is Mason Elephant Park, located in the Village of Taro, North Ubud. After arriving at the Park, guests can enjoy a range of activities. Those wishing to linger a while with a large herd of Sumatran elephants can book a stay at The Mason Elephant Park & Lodge; ride an elephant on a park safari tour; join the fun of giving a bath to one of these majestic animals; feed the animals; visit the elephant museum, or have lunch at its popular restaurant.
The beautiful 3.5-hectare Park opened in 1989 and is home to 32 elephants, 6 of which were born in the Park.
The Mason Elephant Park is open daily from 10:00 am until 5:00 pm to visitors or on a 24-hour basis for overnight guests at the Elephant Park & Lodge.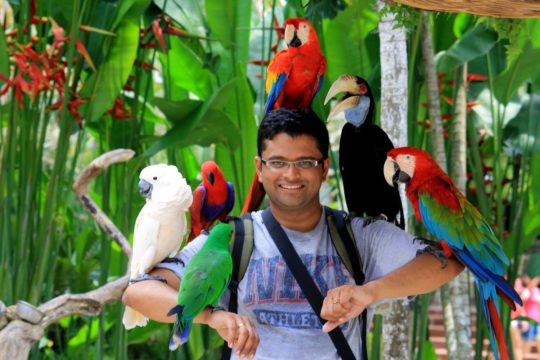 Bali Bird Park
Thousands of birds native to Indonesia, Latin America, Africa, and Australia make their home at the large aviary complex. All presented in an idyllic garden, guests can wander from habitat to habitat, have lunch in the popular bird park restaurant, shop in the bird-themed souvenir chop, and enjoy the frequent bird shows.
The Park has been in operation for 20 years. A recent addition to the Park is an incredible 4-D theatre that shares the fascinating story of the world's birds.
The Bali Bird Park provides a brilliant "day out" while viewing 1,000 birds across 250 species. The Park is also home to a collection of rare Komodo dragons found in nature only on a small group of islands east of Bali.
The Bali Bird Park is open daily from 9:00 am until 5:30 pm.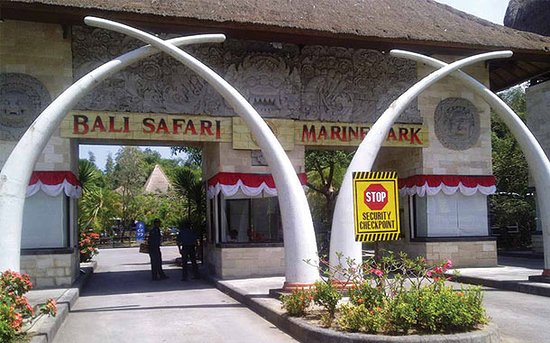 Bali Safari and Marine Park
Established in 2007, The Bali Safari and Marine Park has become one of the Island's "must-see" stops.
Covering 40 hectares, the Bali Safari and Marine Park is home to more than one thousand animals representing more than 120 separate species, including rare and endangered species, Sumatra elephants, Komodo Dragons, Orangutan, Bali Starling, and Orangutans.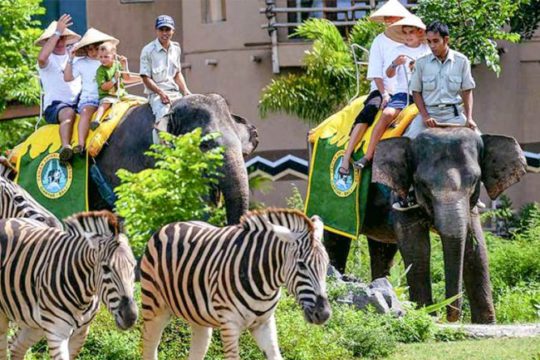 The Bali Agung Theatre, with 1,200 seats, is arguably the largest and most sophisticated theatrical stage in the southern hemisphere. Visitors to the regular shows featuring nearly 200 dancers and musicians are left awestruck by the spectacular Bali Agung Cultural Show that retells a tragic and heroic legend of King Jaya Pangus and his beloved Chinese wife, Kang Ching Wie .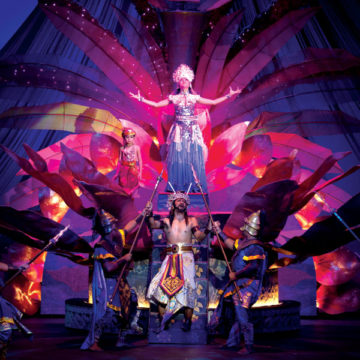 Located on Jalan Dr. Ida Bagus Mantra Km 19 in Gianyar, the Park is just 24 kilometers north of Bali's capital city of Denpasar.
The Park is open each day from 9:00 am until 5:00 pm.
Night Safari Tours are operated at the Park.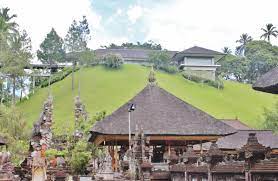 Tampaksiring Palace
The Tampalsiring Palace, or Istana Tampaksiring, located in Central Bali, is one of several "rest houses" for successive Presidents of the Republic and VIP guests of the Nation. The Palace is comprised of four separate buildings: Wisma Merdeka, Wisma Yudhistira, Wisma Negara, and Wisma Bima.
The first two buildings of the Tampaksiring Palace, Wisma Merdeka and Wisma Yudistira, were constructed in 1957, followed by the Wisma Negara and Wisma Wudistira in 1963. This growth was occurring to complement the other Presidential Palaces: Istana Bogor, Istana Merdeka in Jakarta, Istana Cipanas, and the Istana Gedung Agung Yogyakarta,
Of all the Presidential Palaces, Istana Tampaksiring, only the Bali Palace was built after the National Independence declaration. The entire palace occupies a 19-hectare site overseeing the Tirta Empul Temple.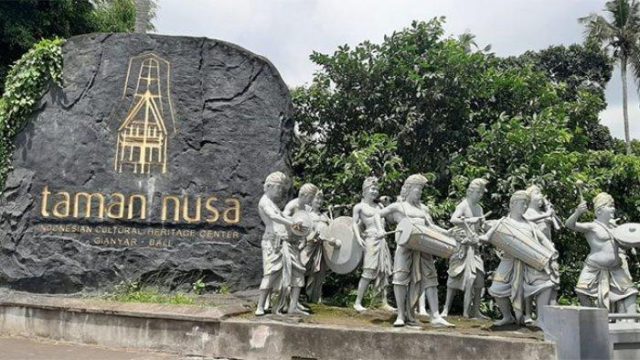 Taman Nusa
Located in Gianyar Regency is a remarkable cultural park celebrating the diverse provinces and ethnicities of the Republic located on Jalan Taman Bali-Banjarangkan. Exhibits depicting the native architecture of people living from Sabang until Merauke fill a 10-hectare site. Taman Nusa also shows the historical development of Indonesia from prehistoric times to the modern day.
Taman Nusa is open daily from 9:00 am until 5:00 pm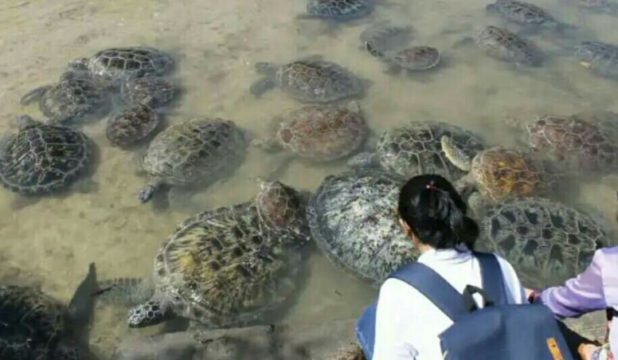 Pulau Penyu – Turtle Island
A 30-minute boat ride from Tanjung Benoa in south Bali, Pulau Penyu, can be accessed using a local sailing boat from the seashore. This Island has become the center of turtle breeding and conservation in Bali.
On Tanjung Benoa, a large number of water sports operators can be found encompassing snorkeling, jet ski, scuba diving, and underwater sea walking,
Pulau Penyu is open to visitors daily from 9:00 am until 5 pm.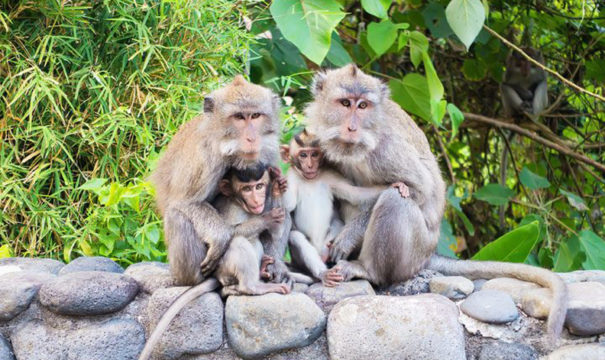 Ubud Monkey Forest
Located within the limits of the Village of Ubud is a large public park boasting growth of primary trees that is also a sanctuary for a large colony of wild monkeys. The Ubud Monkey Forest covers a 10-hectare plot of land inside the village of Ubud, serving as home to 115 species of tropical trees.
Around 700 Balinese lone-tailed monkeys, crab-eating macaque (Macaca fascicularis), live in the Ubud Monkey Forest, a species more commonly known locally as the Balinese long-tailed monkey.
The mostly tame population of monkeys are notoriously naughty in securing food bribes from visitors who will pester to obtain bananas and peanuts from local vendors for their enjoyment. Sunglasses, handphones, hats, and other personal items will often be snatched by the primates, who will hold these items for ransom until successfully traded back for food.
The Park is open daily from 9:00 am until 6:00 pm, with an admission charge at the gate used to care for and feed the primate population.