Locavore – one of Bali's most highly acclaimed fine-dining restaurants that – as its name suggests – celebrates local sourcing and content, has launched what they dub as a "New Happiness Tasting Menu."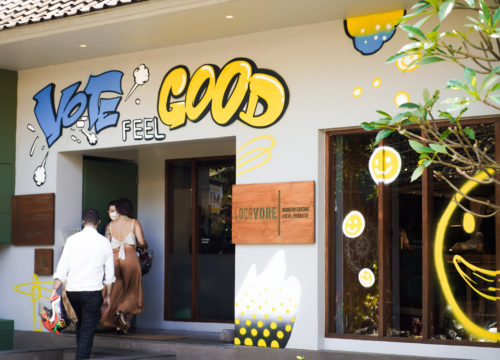 Inspired by the change of weather in Bali from the "Wet" to "Dry" and a second COVID-19 injection for the entire team, Locavore wants to encourage their staff and loyal customers to "look ahead." In the words of Chef Eelke Plasmeijer, "it does feel like there is light at the end of the tunnel, and we want the menu to reflect that."
The New Happiness 16-course Tasting Menu works with the land, the oceans, and Locavore's farm suppliers during the dry season where there is less rain and lots of sunshine. In the view of the foodies operating the popular dining spot, even with these conditions, the fruits are sweeter and the flowers brighter. Highlighting this, mangos, lobsters, passion fruits, and other products to create a menu that feels lighter and has more plant-driven flavors.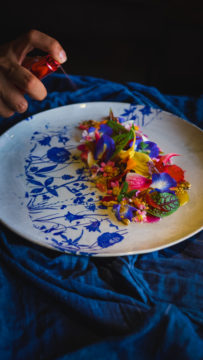 Available on Wednesdays, Thursdays, Fridays, and Saturdays, the "New Happiness Menu" features animal proteins with vegetarian options available on request. The cost of all 16-courses is Rp. 1,250,000 per person, plus tax and service. Thirsty? A creative drink pairing experience to accompany the cavalcade of culinary delight is available for Rp. 550,000 per person, plus tax and service.
The menu opens with an "edible bouquet" of crispy nasturtium leaves presented on a massive bed of wildflowers. Flower Power version 2.0 is served on a blue plate and is almost solely flowers. The varieties of wildflowers are presented in various ways – fresh, pickled, cooked, fried, kombucha, emulsion infusion, and more.
This is followed by a harvest of fresh watermelon that has been slow-roasted in the oven overnight and paired with cherry tomatoes brined in tomato dashi. The result is an unexpectedly meaty, savory experience that still manages to resemble a watermelon. To spread the joy and keep diners smiling, the kitchen staff have carved a smile on the watermelon, confident that smiling is contagious.
For the carnivores, carefully selected animal protein sourced directly from Locavore's client farms results in a 'Schnitzel' dish using beef heart, crusted in Localab koji and fried in its own fat.
To further enliven the festivities, the Locavore Restaurant has been 'vandalized with flowers' and adorned with spray-painted accents to remind everyone that times are changing.
About Locavore
Situated in Ubud, at the heart of Bali's leading art and culture community, Locavore is a small and deceptively unassuming restaurant that seats only 36 for lunch and dinner. Modern, creative cuisine is presented in an ever-changing tasting menu that often features more than 20 dishes based on Indonesian-sourced ingredients.
Eelke Plasmeijer
Eelke started his kitchen career at the age of 14 in a restaurant in his Dutch village. Working his way up through the ranks, he trained at a hotel school and a Michelin Two-Star restaurant in Amsterdam. Visiting a mentor in Jakarta in 2008, he was persuaded to take over as Head Chef at a leading city restaurant there. Ray Adriansyah applied as Sous Chef, and the two hit it off and soon moved to Bali, where they worked in the kitchen at the Alila.
Ray Adriansyah
Ray Adriansyah was born in Jakarta to Sumatran parents. His mother was an excellent cook, and Ray grew up with a deep interest in traditional and international cuisines. While studying in New Zealand, he decided to drop out of business school and switch to cooking. After graduating from culinary school in Christchurch, he returned to Jakarta and secured the position of Sous Chef, working under Eelke Plasmeijer. They've been working together ever since.
Restaurant Locavore
Jl. Dewisita No. 10, Ubud, Kabupaten Gianyar, Bali, Indonesia 80571
Tel: 0821 – 4495 – 6226 | Email: