Detik.com reports that during the dates approximating the Java-Bali Lockdown of 03-25July 2021, the traffic volume on Bali's Mandara Toll Road only totaled 7,500 vehicles per day.
Compared with the daily average number of vehicles totaling 10,700 during the first semester of 2021, the PPKM policy saw traffic declined 30%.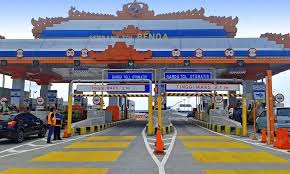 I Ketut Adiputra Karang, the CEO of PT Jasamarga Bali Tol, stated on Thursday, 22 July 2021: "The majority of Bali Mandara Toll Road users are from the tourism sector. Because that sector is most affected by COVID-19, the Bali Mandara Toll Road usage was also affected."
Continuing, Adiputra Karang said: "We cannot hope for much in terms of an increase in mobility during the COVID-19 pandemic, especially during the PPKM-Darurat (Emergency Limitations on Public Movement (PPKM-Darurat) Policy, even though we hope the pandemic will soon end."
Adiputra admits that the declining number of users for the toll road has also decreased the cash flow of the toll operator.
In the current "cash short" environment, the Toll Road Operator is trying to reduce operational expenditures and capital expenditures without sacrificing the level of service provided to toll road users.
During July 2021, Bali Tol Mandara is improving its infrastructure to improve how vehicles are processed through the road system. These improvements will include automated sensor systems implemented in July and road surface repairs and upgrading in September.