In Bali, many public tourist attractions, primarily in the Badung Regency, have been forced to close their gates during that PPKM Darurat that remains in effect through 20 July 2021.
The closing of tourist spots is proving especially problematic for attractions where wild monkeys form part of the venue. Lower visitor numbers have reduced the tourists' food handouts to the primates and subsequently increased the financial burden on the villages that administer the animal-centered tourist attractions.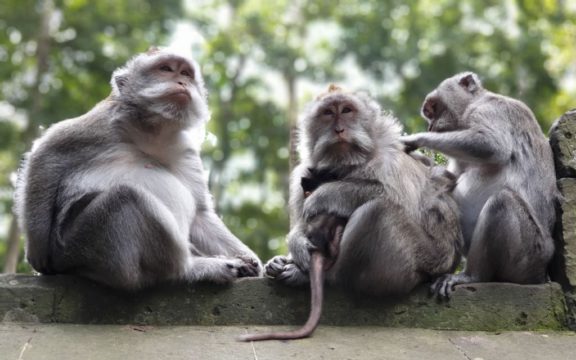 One Park in dire straits is the Sangeh Monkey Forest, located in Abiansemal. Made Mohon, the operations manager of the location, told Balipost.com that he is worried about budgeting the cost of operating the attraction due to the loss of revenues generated from admission tickets. Because of the downturn in tourists made worse by PPKM-Darurat measures, income streams to cover ongoing expenses have largely evaporated. Adding: "Before COVID-19, we had a (yearly) budget of Rp. 1 billion. Now there only Rp. 400 million remaining. Hopefully, this will be enough to cover the operational costs and feeding the monkeys. But if this pandemic goes on much longer, we don't know what we must do."
Mohon said that to feed the 600 monkeys who live at the 14-hectare Sangeh Park requires a minimal Rp. 30 million every month. This equates to Rp. 500,000 each day to purchase bananas and cassava. "The food requirements must be met to maintain the tame and friendly character of the monkeys who could turn aggressive if they become hungry," lamented the Park's manager.
Made Mohon called on members of the public to consider donating fruits to help feed the monkeys at Sangeh. Those wishing to donate fruit should contact the Park in advance to avoid a wasteful over-supply of donated food on a specific date.
The telephone number of the Park's management is 0851-0042-2740