Angered at Being Forbidden to Go Home to Java for Eid Holidays, 23-year-old Man in Bali Posts Bomb Taunt on Facebook That Could Land Him In Prison for Six Years.
NusaBali reports that a Facebook user in Bali, Jumadi (23), let his frustration at not being allowed to "mudik" back to Java for the Eid holidays get the best of him and, as a result, he now faces serious charges before the Indonesian legal system.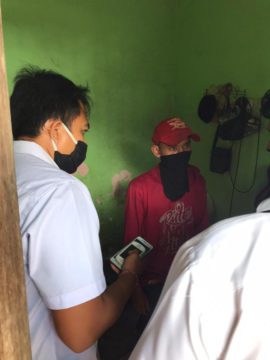 Jumadi was arrested by the Cyber-crime Division of the Denpasar Police on Wednesday, 20 May 2020.
The young man, who lives in the Kedonganan area of South Kuta, operated a Facebook account under the name "Jun Bintang."
AKBP I Gusti Ayu Putu Sunaci, who heads the Cyber-crime Division, confirmed on Friday, 22 May 2020, that Jumadi made threats on Facebook containing hate comments directed against a tribe, religion, race or group that is expressly forbidden under Indonesian law. Jumadi wrote: "Sure, you'll be able to come to Bali again. Just relax. So what if you're forbidden to come to Bali, we'll just "boom" like before. Let them die. HaHaHa."
Jumadi's comments were seen in many circles as an angry threat to repeat the terrorist bombing of 2002 and 2005 in Bali, prompting many to report the postings to Police. Police say Jumadi changed the name of his account and made the posting on a "friends" account in an attempt to incite hate within the community.
AKBP Sunaci said that Jumadi tried to evade tracking by changing the name of his Facebook account. Still, Police were able to locate him. Under interrogation, the man admitted making the threatening postings because of the hatred he felt for the Police. The man was peeved that a national law forbidding "mudik" or homecoming travel, barred the man from returning to Java for Lebaran.
Jumadi is spending his Lebaran Holiday under arrest at Bali Police Headquarters charged with a felony violation under the Information and Electronic Transaction Law of 2008 that carries a maximum penalty of 6 years in prison and/or a fine of Rp. 1 billion.
In arresting the man, Police also seized as evidence a Sony Handphone and six separate screen captures from the Facebook Account of Jun Bintang.
The 2002 and 2005 terrorist bombings resulted in a combined 225 deaths and more than 309 injuries. Not unsurprisingly, jokes, and threats involving bombs evoke strong reactions from law enforcement in Bali.