A new and tempting eatery has opened, tucked into the corner of an Eden-like menagerie of landscape and plant suppliers on Jalan Hang Tuah in Sanur.
Located approximately 35 meters off the main road, on a gravel road almost directly across from the Sanur's Golf Driving Range, is the new and charmingly decorated Café Meyasa serving delicious and attractively priced breakfasts, lunches, and dinners.
Meyasa or Mayasa meaning in Balinese describes something that is the product of good, honest effort that, by extension, bestows karmic grace on all involved.
Meyasa begins and ends each day with delicious western favorites and comfort foods served for breakfast and dinner.
The Meyasa team creatively prepares western favorites for breakfast and dinner.
Meanwhile, lunch is dominated by tasty Indonesian classics presented in a Bali-style buffet cupboard. At lunch, there is a daily choice of 15 Indonesian and Balinese dishes from which to choose, all moderately priced to allow a sumptuous plateful of food costing, depending on selection, between Rp. 30,000 and Rp. 100,000.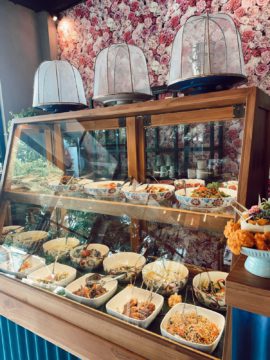 Meals can be accompanied by delightfully-crafted fresh juices and brewed-to-order coffees made with single-origin beans harvested from the slopes of Bali's Kintamani Volcano.
Meyasa opens for breakfast from 7:00 am until 10:30 am; lunch service commences at 11:00 am until 3:00 pm. Dinner service begins at 5:30 pm and lasts until closing at 9:00 pm. A snack menu of comfort foods is available from 11:00 am until 3:00 pm.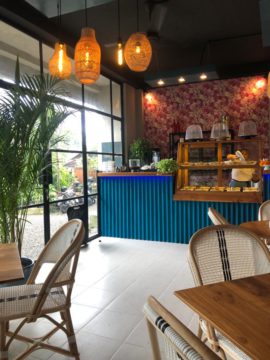 For breakfast, lunch, or dinner, Meyasa emphasizes good taste and outstanding value.
In addition to coffee, tea, and freshly-blended juices, cold beer is available. Guests are also welcome to bring their selection of wine served with a modest corkage fee of Rp. 50,000.
Operated by a Bali-based team from Sourcing Bali that has designed and decorated leading resorts, hotels, and private villas around the globe, the Meyasa interior exudes minimalist charm in both the main dining room and its veranda set in an adjoining garden.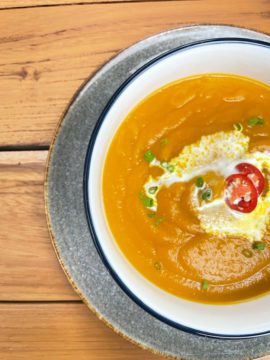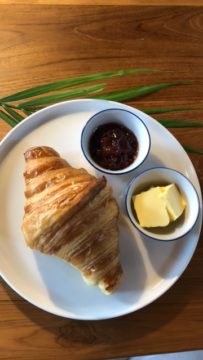 Off-street parking for cars and bikes is available.
Expect the unexpected from the dedicated and stylish "foodie founders" of the Meyasa Cafe. The Indonesian food served at lunch is sure to bring a smile to the face of any Indonesian mother for its honesty and authenticity. Breakfast includes sophisticated egg dishes, seldom encountered at luxury hotels on nearby Sanur beach. While dinners feature an eclectic collection of comfort foods with mouth-watering burgers tempting, fish and chips, and other signature dishes like chicken parmigiana. Look for the menu to change regularly in response to the cooking crew's whims and whimsical input from "regulars."
Did we say whimsical? Visiting Aussies suffering from bouts of homesickness could be both amazed and pleased when presented with a plate of freshly-baked sourdough toast slathered with Vegemite.
Meyasa's will momentarily become available on local food delivery applications. Once the Meyasa team gears up for the challenge, catering will also be available
WhatsApp 081139601617
Meyasa Café
Jalan Hangtua, Gang Dewi Bunga #1
Stay Informed on Bali Tourism-Related News: Subscribe to Bali Update