The Chris Salans Group is relaunching fine dining in grand style in Ubud, Central Bali, on Friday, 28 August 2020, with a very special 6-hands Michelin Star Dinner at the Mozaic Restaurant Gastronomique.
To lend four-more-hands to this special event, Chef Chris Salans has invited two friends who are also extremely talented professional chefs with experience as chefs de cuisine at multiple-Michelin Star restaurants. Coming to Bali are Chef Justin Mauté, former chef de cuisine at the 3-star Yannick Alleno, and Chef Gildas Périn at the 2-star Nicolas Sale. In his own right, Chris Salans, the founder of Mozaic Restaurant Gastronomique, has worked as a Chef under the 3-star Michelin chef Thomas Keller.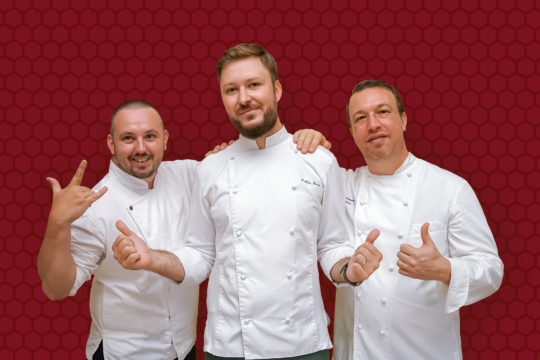 Commenting on the coming evening of world-class dining, Chef Salans said: "Bali and Ubud are going through some tough times. More than ever, it's time for Chefs to come together to support each other and Bali's restaurant trade. Residents of Bali are hungry for entertainment and, accordingly, we have devised several unique collaborative events over the coming months – events, in fact, that, in normal times, would be impossible to put together."
Chef Chris Salans, who is widely acknowledged as a local culinary mentor and Bali's top culinary ambassadors, adds, "Be ready to be surprised!"
These three stellar chefs will prepare a unique seven-course tasting menu for Rp. 950,000, plus tax and service, per person, served between 6:00 pm and 9:00 pm for a maximum of 50 diners throughout the evening. Dinner with premium wine pairings for each course by Master Sommelier Jean Francois Moch is available for Rp. 1,800,000, plus tax and service.
Menu
6-hands Michelin Star Dinner
Friday, 28 August 2020
+ + + +
Chefs' Amuse-Bouches
Amuse Cocktail
+ + + +
Cold smoked salmon, spiced rye crumble, pickles, kemangi leaves by Chris Salans
Wine: Sauvignon Blanc, Grand Fume, Fournier Pere et Fils, Loire Valley, France
+ + + +
Warm mushroom Tart smoked to the Order with skam, mushroom extraction on the side by Justin Mauté
Wine: Chardonnay, Beringer, Napa Valley, USA
+ + + +
Fish poached in algae butter, brandade espuma, and fresh algae
by Gildas Périn
Wine: Chenin Blanc, Organic, Reyneke, Stellenbosch, South Africa
+ + + +
Red wine-braised wagyu beef cheek, hearts of palm bone marrow, kluwek and miso by Chris Salans
Wine: Blend Sirah, The Chocolate Block, South Africa
+ + + +
Cheese Trolley
Selection of Cheeses from Rosalie Cheese, Bali, Moon River Farm, and Mount Batu Abadi, Java
Wine: Shiraz, Kalimna, Bin 28, Penfolds, Barossa Valley, Australia
+ + + +
Chocolate, Shrimp, chili caramel by Gildas Périn
Wine: Merlot, LaRoncaia Fusco, Friuli-Venezia Giulia, Italy
+ + + +
Whole frozen Coconut. Meringue et sorbet noix de cocoa, gelée citron, granola by Justin Mauté
Wine: Riesling Kabinett, Schlossgut Diel, Nahe, Germany
+ + + +
Petits fours
+ + + +
Information and bookings are available by telephoning Mozaic Restaurant Gatronomique at +62-(0)361-975768 or can be booked online by visiting Mozaic's Website .