Indonesia's Minister for Tourism and the Creative Economy, Sandiaga Uno, has grimly assessed the widespread suffering inflicted on the Indonesian people by the continuing COVID-19 Pandemic.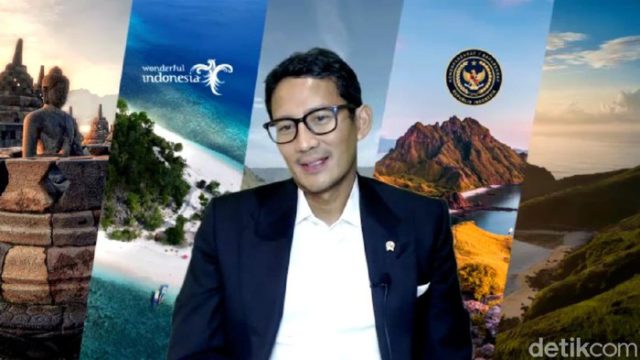 As reported by Detik.com, Minister Sandiaga said at least 34 million Indonesians dependent on the tourism and the creative economy sectors are suffering privations due to the coronavirus. From that total, Sandiaga estimates some 2 million people have lost their jobs.
"The tourism and creative economy sectors have been the worst affected," said Sandiaga during a virtual meeting of the Association of Young Entrepreneurs (HIPMI) held on Friday 05 March 2021.
Just one among many steps to overcome the current situation, Sandiaga pledged to accelerate the development of five "super-priority tourism destinations" in Indonesia: Lake Toba (North Sumatra). Likupang (North Sulawesi), Borobudur, Mandalika (Lombok), and Labuan Bajo (West Flores).
In addition, Sandiaga said the government is stimulating domestic travel to help restart the national tourism economy.
"In Likupang, North Sulawesi, a special economic zone for tourism (KEK) has been created where we are creating a seaport and an airport that are 80% complete. Hopefully, this will handle 5.5 million passengers annually and inject Rp. 20 trillion into the local economy," said Sandiaga.
In addition to a fast-track development of five "super-priority destinations," Sandiaga will also produce tourism "green zones" and COVID-free corridors at several popular tourist destinations in Indonesia, one of which is Bali.
"Now is the time for us to give serious attention. Many members of the public are sad, job opportunities have reduced dramatically, some have been fired, some had their work hours reduced, and others have been sent back to their homes on furlough.
In the current situation, several ongoing government programs have been prepared by The Ministry of Tourism and Creative Economy to alleviate the many problems afflicting the national tourism industry.