The 2,320-meter-high active Mount Bromo Volcano – a peak within East Java's Tennger Massif – reopened officially to visitors on Friday, 28 August 2020.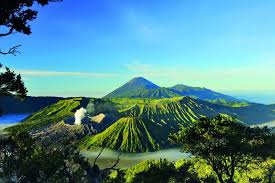 Massif is a geological term for a section of the planet's crust where several faults and flexures converge. In the case with the East Java Tengger – the thickness of the earth's crusts and the general proximity of fissures and faults make volcanoes a common occurrence.
Home to one of Indonesia's most breathtaking panoramas, The Bromo Tengger Semuru National Park, also known as the Mount Bromo National Park, has been closed to the public since the onset of the COVID-19 pandemic.
Bromo's ancient name derives from Brahma's Javanese pronunciation, the Hindu deity who is credited with creating the earth. In the surrounding area of Mount Bromo, the last vestiges of the Tengger tribes still live spread across 30 villages surrounding Mount Bromo and other regions of East Java. The Tenggerese trace their ancestral roots to the Majapahit Empire, a Hindu-Buddhist thalassocracy that ruled over most Southeast Asia from 1293 until around 1517 from a capital located near Bromo in East Java.
Sharing cultural and emotional links with Bali, the Tenggerese are nominally Hindus but practice a faith that is an amalgam of Hinduism, Buddhism, and animism. Within the Bromo National Park is a sacred area within the "sand sea" of the Bromo crater at which the Tenggerese conducts unique annual ceremonies of ancestral worship.
The Mount Bromo National Park's reopening on 28 August 2020 represents a significant step forward in Indonesia's phased reopening to domestic tourism following the complete shutdown precipitated by the COVID-10 Pandemic.
The head of the Park, John Kenedie, said the park reopened on Friday, 28 August 2020 at 2:00 pm, initially only welcoming 178 people of its maximum carrying capacity of 892 visitors. Within the park, the "Bukit Cinta" will only allow 28 visitors within a maximum daily capacity of 141 people. "Bukit Dedaluh" will limit visitors to 86 from a maximum rating of 434. "Savana Teletubbies" is open to 347 daily visitors from its carrying limit of 1,735 people. The "Mentigen Zone" of the Park is limited during the reopening period to 100 people from its rated limit of 500.
Kenedie said an evaluation of park operations would be conducted every week and if the feedback is good and no spike in new COVID-19 cases is recorded among past visitors, the current permissible level of visitors will be increased to 30% of rated capacity and, then, conditions permitting, to 50%,
Visitors to Mount Bromo are required to wear surgical masks, show a letter certifying their upper respiratory tract is free of infection (ISPA) issued by a Health Center, and undergo a thermal check verify a body temperature below 37.3 degrees Celsius.
Related Article