A fire on the slopes of Bali's sacred Mount Aung, through Saturday, 30 September, has blazed for four days largely out-of-control and consumed some 520 Hectares (5.2 square kilometers) in the Kubu District, affecting Dusun Juntul, Bantas, Daya and Belong.
The Chief of the Emergency and Logistical Section of the Disaster Mitigation Agency for Karangasem (BPBD-Karangasem), I Putu Eka Putra Tirtana, explained on Saturday, 29 September 2023, that the forest and savannah fire that started on 27 September continues to blaze in numerous points.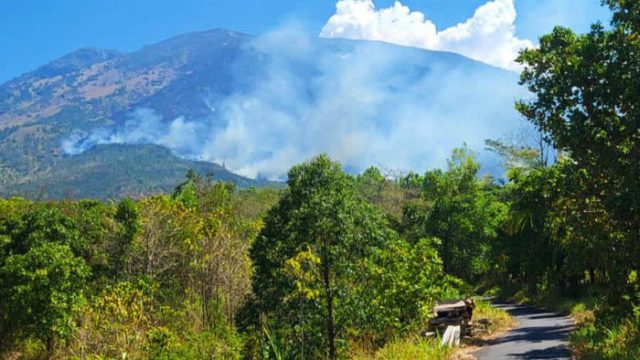 The fire that has burnt an area measuring 520 hectares has been abetted by high winds and extremely dry conditions on the already-arid mountain slope.Tirtana told Beritabali.com that the current conditions in the mountains and the lack of rain portend for the fire to continue over an even wider area, but with residential areas remaining outside the affected area.
A joint task force including members of the Forestry Service, the Environmental and Forestry Ministry, BPBD Karangasem, Territorial Militia (Babinsa), and the Mundep Lestari Farmers Association (KTH) are jointly fighting the fire at an elevation of 1,702 meters above sea level on the remote slopes of the mountain.
Related Links
Fires Rages on Slopes of Bali's Mt. Agung
Facilities Upgraded at Pura Agung Besakih
American Dies Climbing Bali's Mount Agung
22 Bali Mountains Closed to Climbers
Facilities Upgraded at Pura Agung Besakih
Stay Informed on Bali Tourism-Related News: Subscribe to Bali Update