The chief of the Karangasem Regency Disaster Mitigation Agency (BPBD-Karangasem), Ida Bagus Ketut Arimbawa, said that the five main access paths for those wishing to climb Bali's tallest Mt. Agung Volcano are all guarded and monitored by BPBD Officials to prevent people from climbing the 3,031-meter sacred high peak.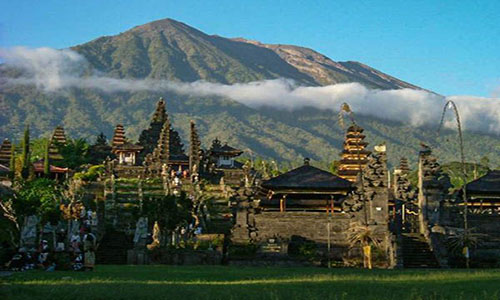 Quoted by the State News Agency Antara, Arimbawa said: "The people living in the vicinity of Mount Agung and visiting trekkers are asked not to climb the volcano and also not to undertake any activities in the danger zone on the mountain's surrounding slopes. BPBD considers any areas within a 2-kilometer radius of the volcano's cone as "off-limits" and at risk of a spontaneous eruption or lava avalanche that can happen at any time.
Arimbawa explained that the Mout Agung Volcano was presently at a Level II Caution (Waspada) with the possibility of a spontaneous eruption. This situation has prompted the Government to impose a "no-go zone" within 2-kilometers of the volcano.
During the current rainy season, residents residing near Mount Agung, particularly on rivers flowing from the mountain, are reminded of the secondary risk of dangerous lahar flows. This risk is also the continuing danger posed by volcanic eruptions that can happen with no warning.
Arimnawa expressed his disappointment with local guides who seek employment by incorrectly advising trekkers that the mountain is open and safe for hikers. This problem is compounded by similar incorrect information encouraging climbers posted on Social Media.
Signs are posted on the five main access trails advising of the mountain's closure to visitors.