Mayor Bill de Blasio has announced that the people of New York City are sending medical supplies and personal protective equipment to Indonesia as a response to the recent spike in COVID-19 cases and related deaths.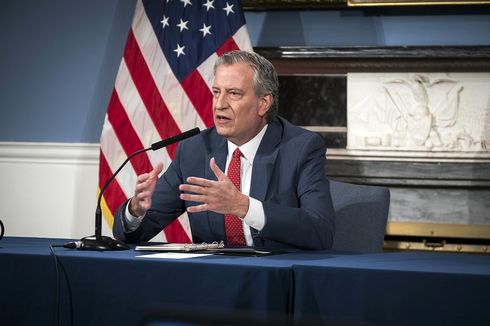 Donated items include test kits, ventilators, swabs, resuscitation bags, surgical masks, and isolation gowns. "COVID-19 has proven to be a relentless and stubborn disease. We must work together as global citizens to defeat this pandemic once and for all," said Mayor Bill de Blasio. "New Yorkers know all too well the pain and loss of this disease. We can't stand by and do nothing. I am proud that we are able to help our brothers and sisters in Indonesia."
"As a global city, and once the 'epicenter of the epicenter,' we feel a moral obligation to provide aid to other countries as they continue to battle this horrible virus," said Deputy Mayor for Health and Human Services Melanie Hartzog. "As New York learned months ago, the only way to combat COVID-19 is by working together – whether it's within our city or across the globe. New York City will continue to do everything possible to help our neighbors in Indonesia and beyond."
"None of us will soon forget those painful months when New York City was the epicenter of the COVID-19 pandemic," said International Affairs Commissioner Penny Abeywardena. "We received a lot of support from our diplomatic corps during our crisis. And so, I am thrilled that we are able to partner with our international community to provide much-needed relief for the people of Indonesia."
"The COVID-19 pandemic is a global challenge that requires all of us to come together to save lives and put an end to this crisis," said Lisette Camilo, Commissioner of the NYC Department of Citywide Administrative Services. "Our city was fortunate to receive an outpouring of support in the earliest days of the pandemic, and we are proud to pay it forward and provide supplies to those who are most in need."
Responding to New York's compassion and the act of solidarity with the Indonesian people, the Minister of State-owned Enterprises, Erick Thohir, said: "The COVID-19 pandemic has revealed the power of global solidarity and reshaped how humanity interacts. Our heartfelt gratitude goes to Mayor de Blasio, the City of New York, and all New Yorkers for their timely and sincere support. These donations will be channeled and form part of our best efforts to overcome the pandemic."
The director of the Jamaica Muslim Center and the president of The Nusantara Foundation and founder of Pesantren Nur Inka Nusantara Mandani U.S., Shamsi Ali, said: "As a New Yorker, I feel so blessed and proud that the greatest city in the world, NYC, is showing its compassion and kindness to the rest of the world, particularly by sending its assistance to my birth country, Indonesia. Once again, the greatness of New York City is neither because of its Wall Street nor because of its skyrocketing buildings. It is about its compassion and connections to the rest of the world. Thank you, New York!"
The American Indonesian Chamber of Commerce (AICC) Office in New York has been working closely with the Global Task Force for Pandemic Response (GTF) by shipping the massive quantities of NYC-donated surplus COVID medical supplies. Formed in late April in response to the Delta variant overwhelming India, GTF groups over 30 CEOs of major US companies who are now turning their attention to Indonesia. After AICC's President, Wayne Forrest, raised the issue of the NYC material, the GTF responded with UPS and FedEx undertaking immediate shipments of critical medical supplies. Other groups working with GTF include the US Chamber of Commerce, US-ASEAN Business Council, and AMCHAM Indonesia.
Indonesia recently passed the 126,000 mark in deaths linked to COVID-19 calculated since the pandemic's outbreak, with some 3,100 of those deaths occurring on the Island of Bali. Recent surges in new cases and deaths have placed the Indonesian nation on full alert with restrictions on public movement. Through mid-August, Indonesia recorded a cumulative total of 3,500,000 infections, some 102,000 of that number falling ill in Bali.
Related Link