The U.S. Government, represented by the District Attorney for New York, Cyrus Vance, Jr., has returned three items of Indonesia's cultural heritage to the Consul-General of Indonesia in New York, Arifi Saiman, on Wednesday, 21 July 2021.
The three items of cultural heritage were:
A statue of Dewa Siwa measuring 6 x 4 x 8.25 inches valued at Rp. 186.3 million.
A statue of Dewi Parwati measuring 5.5 x 4.5 x 7.5 inches valued at Rp. 467.8 million.
A statue of Dewa Ganesha measuring 3 x 2.5 x 4.5 inches valued at Rp. 596.8 million.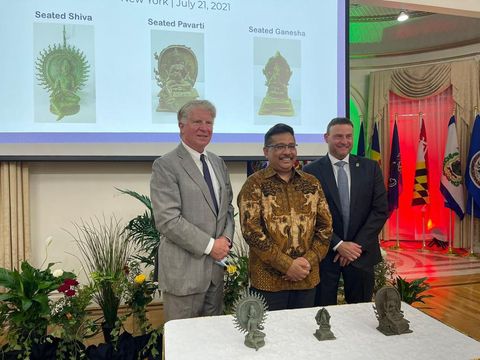 As reported by Balipost.com and the State News Agency of Antara, the Indonesian Consul General expressed his Country's profound thanks to the New York Attorney General and Deputy Special Agent in Charge at Homeland Security Investigations, Erik Rosenblatt, who made possible the return of the three cultural relics.
Consul-General Arifi pledged always to support investigative efforts surrounding cultural artifacts smuggled out of Indonesia to the United States.
Commenting separately, New York State Attorney Cyrus Vance characterized the theft and illegal sale of ancient cultural artifacts as attacks on the links between the past and the future of society. Vance said he felt honored to be allowed to return three cultural icons to their rightful owners – the People of Indonesia. Vance also issued thanks to the unit within his office dealing with the illegal trade in antiquities and the Homeland Security Agency members that managed to return over 400 items to 11 foreign countries over the past year.
Meanwhile, Peter C. Fitzhugh, a special agent for Homeland Security in New York, underlined the importance of confiscating ancient cultural artifacts and returning them to their home country as part of a program of international cooperation to protect the cultural heritage for coming generations. Adding: "The artifacts returned today are part of the historical and cultural richness of Indonesia."
The three antiquities being returned to Indonesia were seized in an investigation targeted against Subash Kapoor. For several years, the New York Attorney General's Office, working with The Department of Homeland Security, had been investigating Kapoor and co-conspirators for the sale and illegal exports of antiquities originating from Sri Lanka, India, Pakistan, Afghanistan, Cambodia, Thailand, Nepal, Indonesia, Myanmar, and other countries.
Kapoor and his co-conspirators smuggled stolen antiquities to Manhattan, selling them in the Art of the Past Gallery on Madison Avenue. From 2011 until 2020, the Attorney General's Office and Homeland Security found more than 2,500 items sold by Kapoor and his network. The total value of these ill-gotten good exceeds US$143 million.
In July 2020, the Attorney General's Office extradited Kapoor from India, where the defendant was being held in prison for legal proceedings underway in Tamil Nadu. Since August 2020, the New York Attorney General's Office has successfully returned 393 antique items to 11 countries. This included 12 items to China in the past few months, 13 artifacts to Thailand, and 33 relics to Afghanistan.