A tourist bus carrying a school group from Surabaya to Bali was involved in a horrific chain-reaction collision involving 12 vehicles on Jalan Raya Singaraja in North Bali mid-day on Saturday, 18 June 2022.
The accident occurred at Baturiti in the Regency of Tabanan and resulted in the death of a female pedestrian and injuries to 8 bus passengers.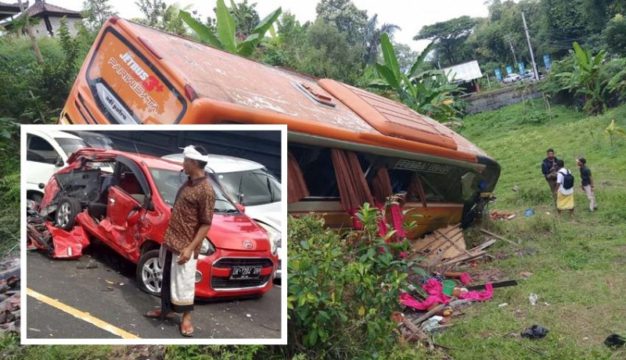 An eyewitness, quoted by Kompas.com, said the bus was traveling in the direction of Denpasar when it suddenly lost control and careened into several parked and moving vehicles and the 21-year-old female pedestrian, Ni Wayan Wandani, who was in the process of making religious Kuningan offerings.
The bus was traveling down an inclined surface fueling speculation that the bus's brakes failed before the crash. In the accident, the bus began to weave uncontrollably, striking oncoming and parked vehicles along the way and a single female walking on the side of the road. The bus then hit a small pavilion outside a local restaurant before coming to a halt at the bottom of a 5-meter-high embankment.
The head of the traffic police for Tabanan Regency, AKP Kanisius Franata, confirmed that of the 12 vehicles struck by the bus, 10 were cars and 2 were motorcycles. He also confirmed the death of a pedestrian. Eight bus passengers sustained moderate injuries in the accident, most treated on an outpatient basis, with three requiring hospitalization at The Tabanan General Hospital.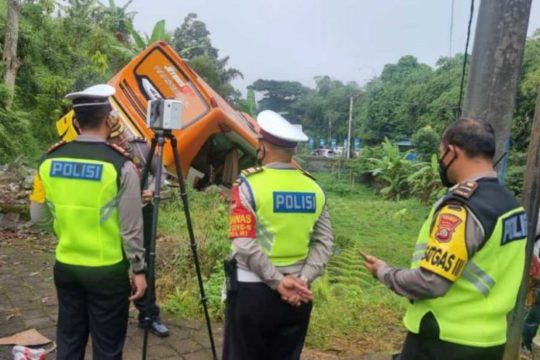 The bus driver, Agus Surpriyanto (38), from Surabaya, has been taken into custody by the Tabanan Police.
The passengers in the bus were part of a school study tour group comprised of 55 people from a junior high school in Surabaya.