What better way to ease into the "new normal" than via a safe and relaxing interlude of lounging around the pool set on the white sand beach of Nusa Dua?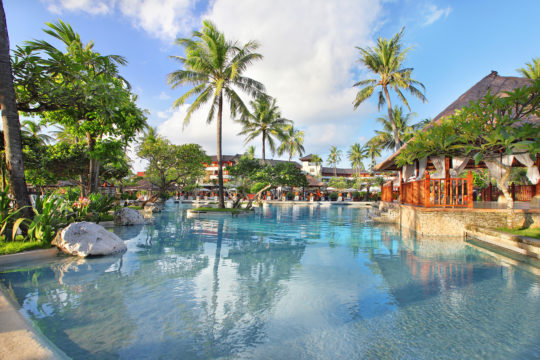 The Nusa Dua Beach Hotel & Spa welcomes guests for a restful "day-cation" getaway made possible with their "Beach & Pool Day Pass." Enjoy a full day of luxuriating with your significant other or a family affinity group at a 5-star Bali Beach Resort. Because of the enormous pool and surrounding gardens, maintaining a reasonable social distance on the grounds of what is the Island's most quintessential Balinese-style property is never a problem.
Well-trained staff, rehearsed in hygiene and sanitation protocols, have already disinfected pool loungers before your arrival. During your visit, staff wearing the required personal protection will keep guests well-fed and hydrated, serving food and drinks at the poolside or on the beach.
The Wedang Jahe Restaurant, located below the reception, is open for your dining convenience.
For the peripatetically restless, take a stroll on The Nusa Dua Beach Hotel & Spa's white sandy beach before returning to your lounger to regain your strength for some more well-earned rest. The Beach & Pool service team are on call so that you can order your next refreshing beverage or delicious snack.
The "Beach & Pool Day Pass" is available daily from 7:00 am until 5:00 pm at the very modest cost of only Rp. 175,000 net per adult per day. Children under the age of 12 years pay only 50% or Rp. 87,500.
To ensure social distancing protocols are maintained and to prevent overcrowding, prior bookings are "a must" for the Beach & Pool Day Pass that includes:
Full-Day Access to the numerous swimming pools.
Freshly laundered and sanitized beach towels.
Use of a disinfected beach and pool lounger.
Access to Wifi
A la Carte Food and Beverage service from the Beach & Pool Service team or at the Wedang Jahe Restaurant
Wedang Jahe Restaurant
Sure to be the highlight of any "day-cation" at The Nusa Dua Beach Hotel & Spa is a lunch from the hotel's renowned Wedang Jahe Restaurant.  Open each day until 9:30 pm; this picturesque restaurant, surrounded by a lotus pond, offers outstanding local and international cuisine. Order food delivered to your poolside or beach lounger location or change into some casual resort attire to enjoy dining inside the restaurant.
As the sun starts to set and to finish off your well-deserved "day-cation", venture back to the Wedang Jahe Restaurant for a refreshing sundowner cocktail followed by a scrumptious dinner meal. Advance reservations are preferred, allowing the service team to arrange the seating in a suitable and safe physical-distancing manner.
Your Safety Comes First
To ensure the safety of visiting guests and staff working at the resort, the Nusa Dua Beach Hotel & Spa, Bali has taken a wide range of preventive and increased measures in health, sanitation and safety standards, based on the Government recommendations.
Nusa Dua Beach Hotel & Spa, Bali
Kawasan Pariwisata Nusa Dua Lot. North 4,
Jl. Nusa Dua, Benoa,
Telephone: +62 (361) 771210
Whatsapp: +62 (811) 3972 442
Facsimile: +62 (361) 772617
Related Links
Nusa Dua Beach Hotel and Spa Website
Nusa Dua Beach Hotel and Spa Beach & Pool Day Pass Link