The Bali Provincial Government is preparing a total prize purse worth Rp. 1.7 billion in support of an Ogoh-Ogoh Festival Parade scheduled for 31 October 2020.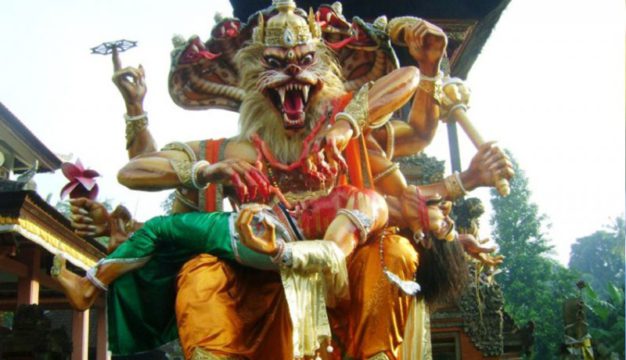 Very much a Balinese tradition, Ogoh-Ogoh are spectacular Papier–mâché effigies borne on the shoulder of the young men from different village banjars in Bali who in the weeks leading up to the Festival will construct the parade floats in their respective villages.
The State News Agency Antara said the ogoh-ogoh parade would serve as a replacement of the Ogoh-Ogoh Parade that should have taken place earlier this year on the evening of Tuesday, 24 March 2020. Traditionally held on the night before Bali's official day of silence – Nyepi, the Ogoh-Ogoh festivities in March were canceled to prevent the spread of COVID-19.
In response to widespread disappointment with the cancellation of the Pre-Nyepi Ogoh-Ogoh Parades, the Governor consulted with regional governments and religious leaders before deciding to announce a Festival Ogoh-Ogoh Festival Parade to coincide with the 62nd Anniversary of the Establishment of the Province of Bali on 08 August 2020 – just before the official founding date of 14 August. Unfortunately, upon reviewing the status of ongoing efforts to eradicate COVID-19 in Bali, a decision was made to move the Ogoh-Ogoh Event to 31 October 2020.
The Festival Parade will be an Island-wide competition. Villages across Bali are encouraged to register their participating in the coming Ogoh-Ogoh Festival Parade via the local sub-district (kecamatan) between 08 August and 11 September 2020.
A select jury on the kecamatan level will review all entries 15-25 September 2020 with the "top three" entries form each sub-district to be announced on 26 September 2020. The winners, forming a group of semi-finalists, will be reviewed 10-20 October 2020 with the winners' list to be published on 22 October 2020.
The organizers have pledged that "new normal" conditions permitting, simultaneous celebratory festival parades will occur on Saturday, 31 October 2020, in various locations across Bali.
The Provincial Government of Bali has budgeted cash prizes worth Rp. 1.7 billion for the winning Ogoh-Ogoh entries. The best entry on the municipal or regency level will win Rp. 50 million and an accompanying trophy. Second place on the municipal or regency level will win a trophy and a cash prize of Rp. 35 million. Third place winners on the municipal or regency level receive a trophy and a cash prize of Rp. 25 million.
As an additional incentive, 144 winners on the sub-district (kecamatan) level across Bali will receive a cash prize of Rp. 5 million and a trophy.
Those wishing to details on the Ogoh-Ogoh Festival Parade can contact the organizers at Dinas Kebudayaan Provinsi Bali, Seksi Cagar Budaya by telephoning 0361-246474 (extension 108) or Cell Number 0813 3732 5665.