Bali X Files
The earthquake and three aftershocks that shook northeast Bali in the early hours of Saturday, 16 October 2021, and killed at least 3, caused tens injuries, and widespread property damage in rural areas of the Island occurred on the Balinese Hindu holy day of "Tumpek Pengatag."
Also known as "Tumpek Uduh," this day is dedicated to seeking the blessing of Dewa Sangkarta – the protector of trees and flora generally.
The convergence of the holy day and the four earthquakes on the same date are seen by some devout Bali-Hindu leaders as having great significance and potentially portending ill-winds for the Island of Bali and its people.
Holy man Sulinggih Ida Pandit Mpu Siwa Budha Daksa Darmita of the Griya Agung Sukawati said "Tumpek Uduh" and the earthquakes falling on Sasih Kalima, Saniscara Kliwon (16 October) warns of future momentous events ahead for Bali. The Bali-Hindu priest, quoted in Balipost.com, warned the people of Bali to be on guard to the possibility of future threats and natural disasters.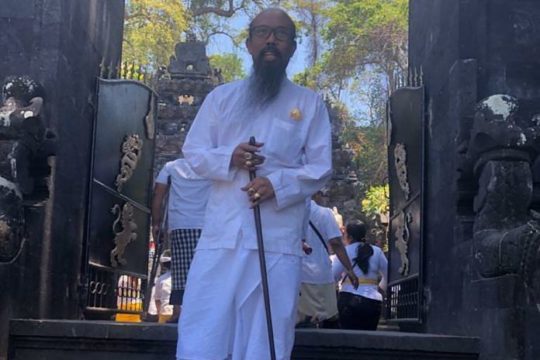 Sulinggih Ida Pandit Mpu Siwa Budha Daksa Darmita said that the prophecy of doom is found in the ancient Balinese calendar – Palalindon – that warns of coming "disturbances" and an assortment of difficult circumstances ahead.
The Bali-Hindu priest listed a range of calamities mentioned he says are mentioned in the ancient calendar, including:
Diseases affecting Bali's rice crop
Sub-par rice production.
Geophysical disturbances.
A lack of good acts of self-sacrifice by members of the community.
Numerous and unending death rates
An abundance of negative energy.
Community conflict
The spread of plagues and disease.
Many victims resulting from natural disasters.
Numerous difficulties experience by those in power.
Ida Pandit added: "So, the problems to be faced in the future are not insignificant, but filled with turmoil and difficulties."
The Priest said the Balinese library of ancient texts on earthquakes advises the people of Bali should anticipate a developing situation ladened with danger by making religious offerings. He continued, saying that even simple daily offerings are needed and noted by the Almighty. He explained further that the best time of day to pray and make offerings is at sunset, just before nightfall, following guidelines of the Kitab Suci Weda stipulated by the Almighty Sang Hyang Widhi Wasa.
"Even the smallest offerings, if it is presented with an ethical, just, and pure heart will be received," said Ida Pandita